<< Back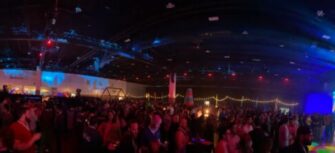 Inspire 2022 Recap
One week on and the dust has just about settled from my first US Inspire, and my first in-person conference in 4 years. I thought I'd recap my main takeaways along with my favourite sessions from #AlteryxInspire22.
Before I start, I should throw a massive shout out to Denver and all Denverians for hosting us all so wonderfully, letting us take over a corner of their city and even giving us glorious weather. I especially appreciated the 32 -> 2ºC shift on Friday to let us know that it was time to go home.
Big Picture
My 2 main takeaways from Inspire were The Cloud and (aptly enough for Colorado) the importance of Community.
In brief, Alteryx is going cloudwards with 3 new products – Designer Cloud Powered by Trifacta, Auto Insights and Auto Machine Learning – and on top of that its Community is awesome and represents the best way to get involved.
Also, Alteryx is changing its release cycle – moving to twice yearly major releases, with minor releases every 6 weeks that will not require reinstallation! 😃
The Cloud
According to Chief Product Officer Suresh Vittal, there are 4 priorities guiding Alteryx at the moment:
Democratising Analytics – making it a team sport, as it absolutely should be.
Embedding AI everywhere.
Enabling the cloud.
Untangling big data.
We can see all of these shown off in their cloud platform.
Designer Cloud Powered by Trifacta
The main focus was Designer Cloud Powered by Trifacta. This is available now (you can get a free 30 day trial at alteryx.com) and is a browser based, cloud native ETL tool. Mac users rejoice, you will no longer need parallels to run Alteryx!
If you're familiar with Trifacta then currently Designer Cloud Powered by Trifacta (henceforth DCpbT) will look extremely familiar. But as time goes on, more and more of the classic Designer "drag and drop" interface functionality will be added.
If you're not familiar, then DCpbT is a tool where you prep your data using AI aided steps by interacting with your results window.
Most excitingly for me is DCpbT's orchestration capabilities. Through 'Plans' you can schedule sequences of workflows using conditional logic affected by the outcome of upstream workflows. These can be set-off by webhooks or other external triggers. There was a genuine ripple that moved through the crowd when they showed this off at the keynote, so I am clearly not the only one sharing in the excitement about this development.
Even more clouds
Moving beyond DCpbT Alteryx also showed off 2 more of its cloud and browser based products: Auto Insights and Machine Learning. Both of these products break down traditional knowledge barriers and fulfil the Inspire tagline of 'Analytics for all'.
Machine Learning takes your data and creates either a classification or regression based model (time series should be added soon). It grades your data first to ensure it is suitable to model and gives you instructions on how to improve it. As well as automagically modelling your data, it has an education mode which walks you through what the tool is actually doing, and the implications of its steps.
It also has an insights tab which shows the drivers of your model. In the example I saw we looked at employee churn. It turned out being under 30 and working more than 8.5 hours a day were the most important variables affecting the model. This means that as well as predicting the likelihood of new employees to quit, we can understand why that might be happening – and take action to remedy it.
The final thing I want to mention is its ability to do simulations. You can take a single row of data and interactively tweak all its variables, before running them back through the model. This makes doing 'what-if' analysis incredibly quick and easy.
Auto Insights is a very cool product. Again web and cloud based, you plug in clean data and it automagically shows trends and root-cause analysis. These reports are built in natural language, as well as with visualisations, and are easily shareable.
The aim of Auto Insights is to reduce or remove the back-and-forth of question asking which normally happens between analysts and their end-users. Instead of starting from scratch, and having to know the 'right' questions to ask of your data; auto insights lets you know what's going on as well as why. It was styled as a 'data advisor' to help business leaders get their questions answered as well as prompting them with insights.
You can customise and save the reports it creates – quickly and easily changing between different time comparisons, for instance, without needing to create custom calculations. It's also very quick: it took 70 seconds to create a full report – rather than the minutes/hours it would take in a traditional BI tool.
Again the thing which impressed me most was the insights it gave. Going beyond what is happening and explaining why a data point is where it is – it allows you to dig into the drivers of its movement. If you haven't already seen it, then check out its demo here.
Community
The Alteryx Community (https://community.alteryx.com) is a real feather in its cap and so many speeches and sessions were driven around both Alteryx's community and Community.
Alteryx Co-founder Libby Duane Adams spent her keynote proselytising the community in all its forms. Special mention was given to the SparkED program providing licences to users in higher education. This has enabled community members, who otherwise wouldn't have had access, to flourish in their analytics journey.
Alexis Ohanian (Venture Capitalist and co-founder of Reddit) joined for a fireside chat where he mostly spoke on decentralisation and community. On community he mentioned that, despite there often being Chief Community Officers, community management is still undervalued. Reddit survived 3 years of being ignored by its owners due to the strength of its community. Strong communities act as a moat against competitors, aids retention and promotes organic growth. In fact, investment in community is necessary to build companies in web3 – Minimal Viable Community is the new Minimal Viable Product.
On top of this big talk, by dint of walking around the conference you could see the strength of Alteryx's community. People gathered from all over the world united by common passions. Sparks flying in conversation at the solutions centre where anyone could get their problems solved by users. And the free and generous sharing of knowledge that typifies a thriving community.
I've said before, but if you haven't explored the Community then do. There's interactive lessons, discussion boards and weekly challenges plus a whole lot more. I guarantee that you will become a better Alteryx user from time spent there.
What's New?
Just in case you're not fully up-to-date with your Alteryx versions, we got a quick recap of what's new in Alteryx Designer and Server.
Designer wise the big change is that AMP is now on by default. This should make your workflows a lot faster, but can have some interesting consequences of multi-threaded processing (more on that later).
We've also seen some quality of life improvements like a recommended tool palette which uses Alteryx's telemetry data to suggest the most commonly next-used tools, which should make jumping from a summarize tool to a formula tool just that little bit quicker.
In a similar vein they've now added data cleansing capabilities to the results pane along with sort and filter, so you can clean your data while viewing it and then add those pre-configured tools to your canvas. Finally, something which might have passed you by is the ability to compare workflows. Now you can see exactly what happened between 'final_version_3.yxmd' and 'final_version_3_final.yxmd'.
On the server side, the API has been thoroughly upgraded to version 3. This opens up a host of new endpoints to make even more administration tasks programmable. To make life even easier Alteryx have provided a suite of macros on the Community so you can run these tasks from the comfort of Designer.
Favourite sessions
Inspire is pretty full-on, running for well over 12hrs a day with scores of sessions; keynotes, customer stories, deep dives and hands-on sessions too. It's impossible to attend all of them, and there were a couple which were fully booked when I was registering for them.
***Top Tip for future Inspires – register for sessions early***
I wanted to point out a few sessions which were personal favourites of mine – in case you get a chance to see them again.
Grand Prix
Firstly, there is obviously the Alteryx Grand Prix. It's always my highlight of Inspire. Getting to see some of the best users in the community pitch themselves against each other and the clock to solve devious challenges in front of thousands of people is genuinely exhilarating. This time was especially exciting to see student, ACE and all-round rockstar Claire McCullough fight her way to first place, while taking time to keep everyone happy by switching between horizontal and vertical layouts. The atmosphere of the room was as electric as when Vampire Weekend played "A-Punk".
Alteryx Sneaks
Next up, still on the main stage was the inaugural 'Alteryx Sneaks'. Co-hosted by Jordan Klepper (of TV fame), 9 possible ideas for future releases were presented by Alteryx employees to go to a public vote. Now there's no guarantee that any of these actually will make it into the product, but there was some seriously cool stuff on show.
Like introducing Primary and Secondary school kids to data analysis through interactive story-telling – giving them a head start for the future job market. Or redesigning the App interface designer to be more intuitive – including intelligently updating interface tools (removing the need for chained app workarounds). Or even a MeetBot which summarises and quantifies meeting recordings, so you know who said what, and how long it took them to say it…
Even if they don't get released it was still great to get an insight into what the Alteryx product team get up to behind closed doors.
AMP Under the Hood
Moving away from the main stage into the breakout rooms I wanted to highlight Adam Riley's session under the hood on the new Alteryx engine AMP. AMP's been out for a few releases, but from 2022.1 it will be turned on by default, so it was especially timely to have a deep-dive and see exactly how it differs from the original engine.
Basically instead of processing records 1 by 1, AMP processes them in 4mb packets. This means that your data might not retain its order throughout your workflow, but you can see enormous efficiency gains. It also means that if you have more cores available to you those gains scale, whereas the original engine was effectively limited to 3-4 cores. To show this off, Adam ran 15 million records through a workflow on a 16-core machine and saw a 70% reduction in time with AMP on.
There's a whole host of info on AMP on the Alteryx Community, so if you're not familiar with how it can help you, and some of its quirks, I'd strongly recommend checking it out.
UX Labs
Finally the UX labs gave us the chance to get hands-on with unreleased Alteryx features. And by giving feedback you might even affect the future product! Now these sessions are under NDA, so I can't talk much about them, but if you get the chance to go to Inspire I cannot advise enough that you take this opportunity to play with Alteryx's new toys.
Final Thoughts
So that's it for my recap of #AlteryxInspire22. I had an absolute blast in Denver and came back fully inspired. If you have any questions then find me on twitter @olliehclarke and hopefully see you at the next conference!