<< Back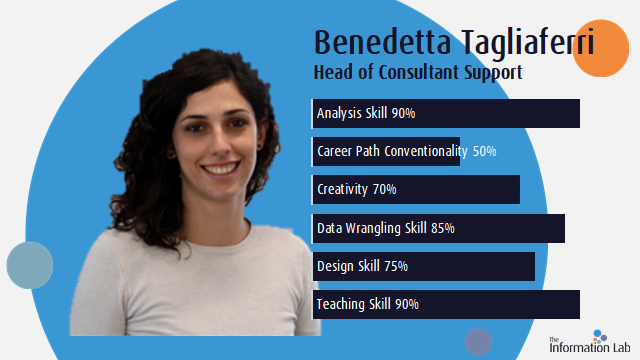 Meet the Team: Benedetta Tagliaferri, Head of Consultant Support
Get to know a bit more about the team working at The Information Lab!
Benedetta's solid analytical background and flair for design mean that she is perfectly placed to help non-profits drive social change by making sense of their data.
In her own words:
"I can't think about something more rewarding than using our skills for raising awareness and having an impact on social causes."
Benedetta strongly believes in doing good with data. At work she drives engagement with Diversity and Inclusion by running regular training sessions and organising guest speakers for the Information Lab and Data School team. She also created TIL+ which lets The Information Lab help NGOs and non-profits make sense of their data. Her ideal work day? One where she can help someone "it's incredibly rewarding and fun!".
When Bene was little she wanted to be a florist. While she still loves flowers she now prefers seeing them in the wild. A keen traveller, Bene loves exploring London (her current home city) and finding all the best hidden cafes and walking routes.