<< Back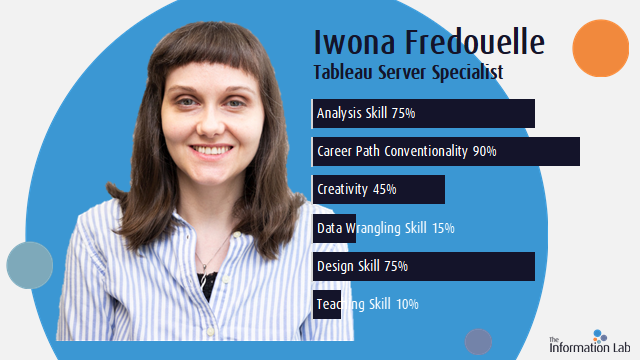 Meet the Team: Iwona Fredouelle, Tableau Server Specialist
Get to know a bit more about the team working at The Information Lab!
Iwona Fredouelle specialises in Tableau server administration and management. She has over 10 years experience and has lived and worked around the world honing her technical skills.
In her own words:
"I like seeing relief on people's faces when I solve a problem they have been struggling with for hours/days. It is nice to help people"
Iwona loves helping people by solving their complex technical issues. She's well placed to do this with a Masters in Computer Science and a background as a data warehouse engineer. She has worked in Tableau Server environments since 2012 (and wow, has Tableau come a long way since then!). Iwona also loves travelling and has worked for companies around the world, from the US to Singapore.
While Iwona may focus on the technical at work, outside of work she embraces her creative side drawing doodles using the zentangle method. You can see her work on Instagram. She also writes a blog about scented candles in Polish.