<< Back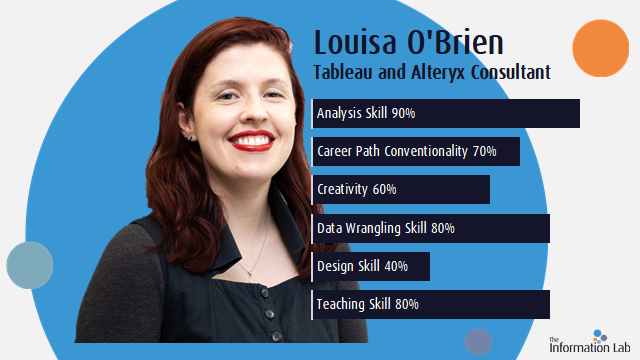 Meet the Team: Louisa O'Brien, Tableau and Alteryx Consultant
Get to know a bit more about the team working at The Information Lab!
Pragmatic and thoughtful, Louisa centres people and meaning in her work with data.
In her own words:
I like helping people understand things – while my career can look non-linear, this is the bedrock of every role I've had. I'm lucky enough to have worked in a variety of places and roles, which has taught me a lot about the different ways that people understand a particular thing. For me this is a fundamental skill of working with data!
Growing up around computers at home, Louisa finished a Bachelor's Degree in English Language and Literature and began working in Change Management for an Fast Moving Consumer Good (FMCG) Company in the UK, working on a major Enterprise Resource Planning (ERP) upgrade, before moving roles to Test and Cutover Lead in Denmark. Returning to university to learn more about data and decision making, she acquired an MSc and took on a graduate Business Analyst role at a large municipal transport authority.  Discovering Tableau at a Data + Women event in London, she followed the steps of many Data Schoolers and joined The Information Lab's Core team, where she specialises in Security and Ethics, Predictive Analytics and data pipelining.
When she was little Louisa wanted to be a writer – and books still hold a place in her heart. Louisa's other main vices are paper (books), open and unread browser tabs, and bread.