<< Back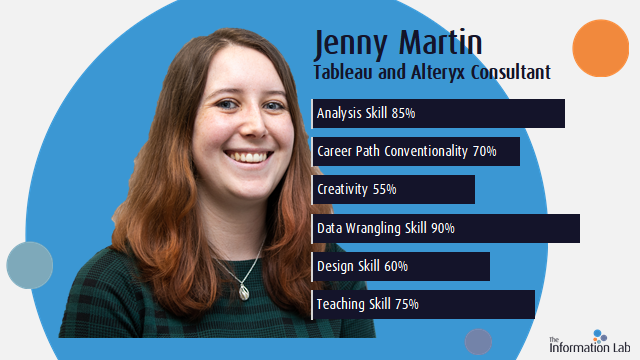 Meet the Team: Jenny Martin, Tableau and Alteryx Consultant
Get to know a bit more about the team working at The Information Lab!
Tableau Social Ambassador Jenny Martin has a passion for data prep and the problem solving it requires.
In her own words:
I love preparing data and getting it all squeaky clean so that it can actually be used! There's nothing more rewarding than hearing that the data you've managed to bring together has helped uncover a previously unknown insight.
Jenny has been working with data for 3 years now and the part that really interests her is the data preparation stage. That's why for the last 2 years, she's enjoyed helping to run the weekly challenge initiative Preppin' Data, which helps to give hands-on examples of data preparation challenges.
When Jenny isn't working she likes to take advantage of her close proximity to Southend seafront by roller skating along the seafront on sunny days. It's nice and flat with a wide pathway, which is always helpful for avoiding crashes!
---
Want to learn a little more about Jenny? Highlights from her take over of the Information Lab twitter account