<< Back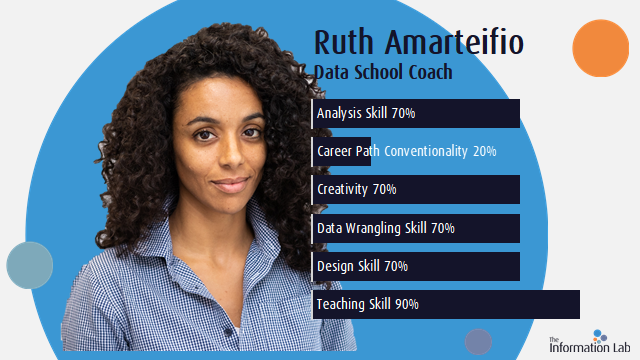 Meet the Team: Ruth Amarteifio, Data School Coach
Get to know a bit more about the team working at The Information Lab!
A self-described 'Master Jack-of-all-tradesman', Ruth brings a multidisciplinary approach to learning and sharing ideas. Her background includes Architecture, Economics, Teaching and Tailoring.
In her own words:
I love change and solving problems. Every day is new and there is so much to learn, plan, and work on.
Ruth graduated from Architecture in Greenwich, Economics in Canterbury, Civil Engineering in Limerick, and a Bespoke Tailoring Diploma in London that included training on Savile Row. Before Joining the information lab, she was working on her fashion label Amartei.
When Ruth isn't working, she can be found in her craft room- drawing, cutting or sewing, or risking her life down country hills on a road bike.
---
Want to learn a little more about Ruth? Highlights from her take over of the Information Lab twitter account