<< Back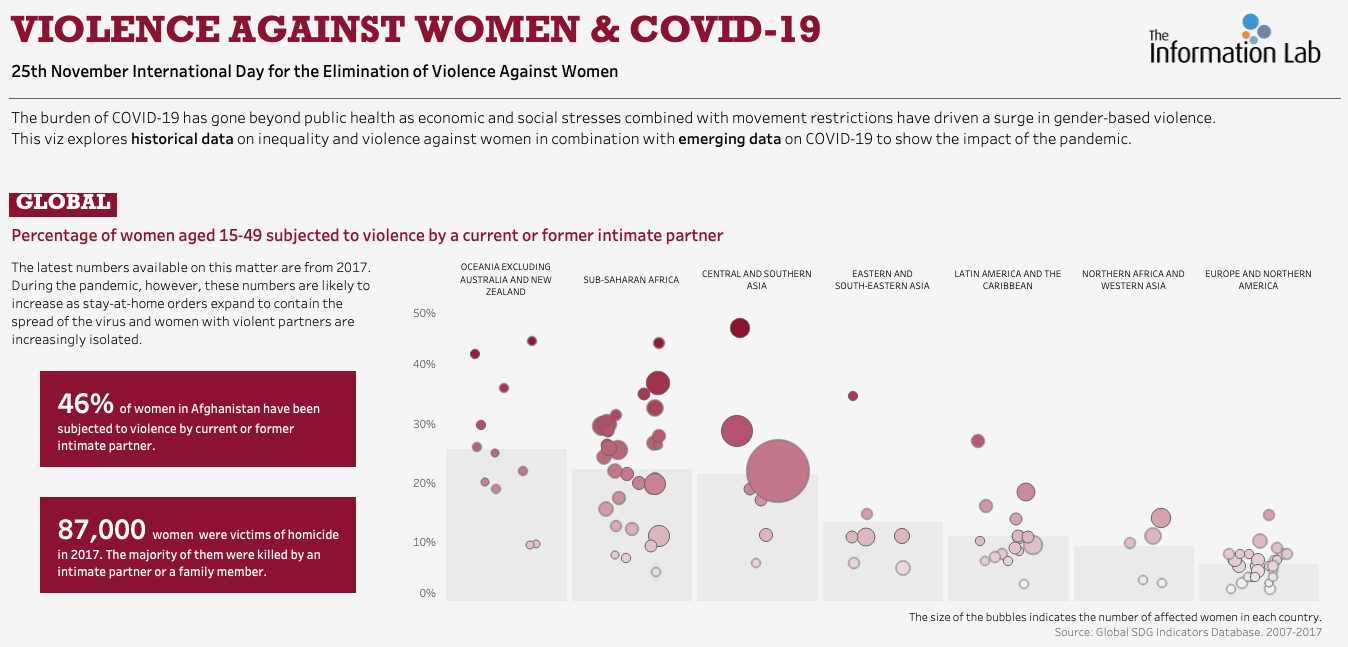 Violence Against Women and COVID-19
On 25th November we celebrate International Day to end violence against women. This year has been particularly challenging for women as the world retreated inside homes due to the lockdown measures introduced to curb the COVID-19 pandemic. Reports showed an alarming increase in the already existing pandemic that is violence against women.
Although international data on COVID-19 infection shows that men are at higher risk of contraction and death from the virus — According to WHO, 53% of confirmed cases were men and they had an over 60% higher rate of fatality over women — certain pre-existing socioeconomic conditions of women make them more exposed to the indirect consequences of social isolation and stay-at-home orders.
There is no doubt that lockdown measures can be effective in controlling the spread of the virus. However, these measures have indirectly increased the burden of women who live with violent partners and who now find themselves isolated from the people and resources that can help them. Additionally, quarantine conditions are associated with alcohol abuse, depression, and post-traumatic stress symptoms, and the most vulnerable people to the consequences of those conditions are often women and children.
At TIL+, we believe in the power of data, so we have explored what has been the impact for women in the world following lockdown measures. We have collected data from several sources all over the globe: from United Nations Women surveys and reports to Google Trends and regional news outlets. Our findings are, unfortunately, unanimous when it comes to the increase in domestic violence against women.
When looking at historical data from the Global Sustainable Development Goals indicators database (2007-2017), we see that Afghanistan has had the highest proportion of women aged 15-49 who have been subjected to violence by a current or former intimate partner, with almost half of the women's population being affected (46%) and that India has had the greatest number of victims, with over 60 million women affected (22% of female population). Although these numbers are not reflective of the current situation during this pandemic, they are likely to have increased as women find themselves isolated with their abusers.
To support this assumption, we used trends.google.com to investigate how the search interest for the term "domestic violence" has changed on Google during the past 12 months for the 4 countries with the greatest number of COVID-19 cases: United States, India, Brazil and Russia. The results were an unpleasant surprise as the search interest peak in all 4 countries happened during the first lockdown period we faced worldwide from March to June.
The viz also explores how the situation has been aggravated in other regions of the world. In Latin America, domestic violence helplines saw a rise in phone calls as high as 130% (in Colombia) during the first 18 days of lockdown. Chile, Argentina and Mexico have also reported an increase in domestic violence phone calls and police reports following the implementation of stay-at-home orders.
A UN Women survey in Asia and the Pacific shows that some side effects of the pandemic, such as the increase in unpaid caregiving, job loss, school closures and the increase in domestic work, have disproportionately affected women's mental and physical health. Discriminatory social norms have put an increased demand on women and girls to cater to the basic survival needs of the family and care for the sick and the elderly. Special attention should be taken with adolescent girls, as evidence from past pandemics shows that they are at particular risk of dropping out and not returning to school even after the crisis is over.
Even though only 63% of women aged 25 to 54 are in the labour force globally (compared to 94% of men), in the health sector they comprised 70% of the workforce. Being at the frontline of the COVID-19 response puts women at greater risk and it is important to ensure that they have access to women-friendly personal protective equipment and are afforded flexible working arrangements to balance the burden of care.
In Africa, 73% of the countries do not criminalise marital rape and 51% of the countries do not have clear criminal penalties for domestic violence. The lack of these and other protective legislation for women put them at a higher risk of the consequences of the lockdown. Local media in Kenya has reported that 4000 schoolgirls have become pregnant since school closures and in the Central African Republic, rape incidents increased by 27% since the start of the pandemic.
You can help end violence against women in several ways. If you don't know how to start, you can watch this video created by UN Women that talks about how you can combat domestic violence during COVID-19. The Global 16 Days Campaign takes place every year and it has helped thousands of people by bringing awareness about a life-time pandemic of violence against women. The #WithHer Movement will also bring you awareness about gender-based violence and if you want to take a step further, you can donate to the UN Women and your money will help make sure that women and girls around the world will have access to safe spaces, counselling and sanitary products.
#OrangetheWorld, #WithHer, #StandUp4HumanRights, #GenerationEquality
List of data sources:
Global SDG Indicators Database 2007-2017; trends.google.com; UN Women Rapid Assessment Survey on the socio-economic consequences of COVID-19 on women's and men's economic empowerment; ilostat.ilo.org/data; unwomen.org; wbl.worldbank.org; UN's MINUSCA mission in the Central African Republic, africanews.com; The DHS Program STATcompiler