<< Back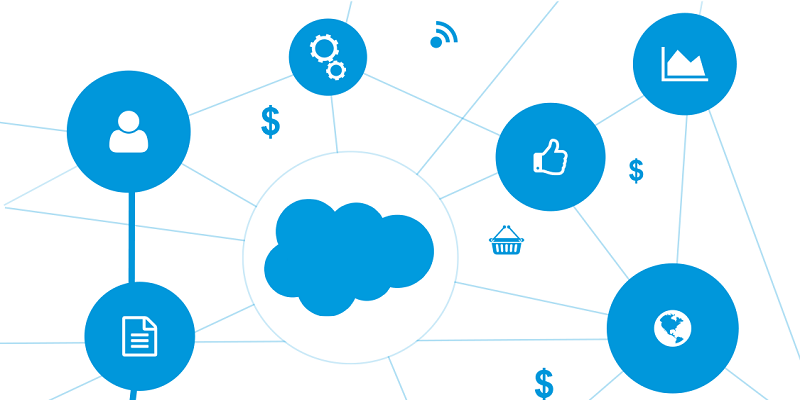 How to use the Salesforce Connector in Prep Builder 2020.2 Beta
A Salesforce connector in Tableau Prep Builder has been sought after for a long time now, especially following Salesforce's acquisition of Tableau. This was particularly clear to me following the February Prep User Group when a whole load of questions submitted to Rahim (Director of Engineering, Tableau Prep) asking when we could see this in the product. He remained coy on the topic, just indicating that it was in the pipeline. However, with the feature currently available for testing in Tableau's beta programme, we can't expect it to be too far away now!
How to use the Salesforce Connector
The steps to connecting to your salesforce data are relatively simple. First thing to do is add a new connection to your flow, you will see a brand new Salesforce option. Selecting this will take you to your familiar Salesforce login screen where you will be prompted to enter your credentials.
Following this, you will be asked if you want to allow Tableau Desktop access, you should select allow. You will then be told you can close your browser window.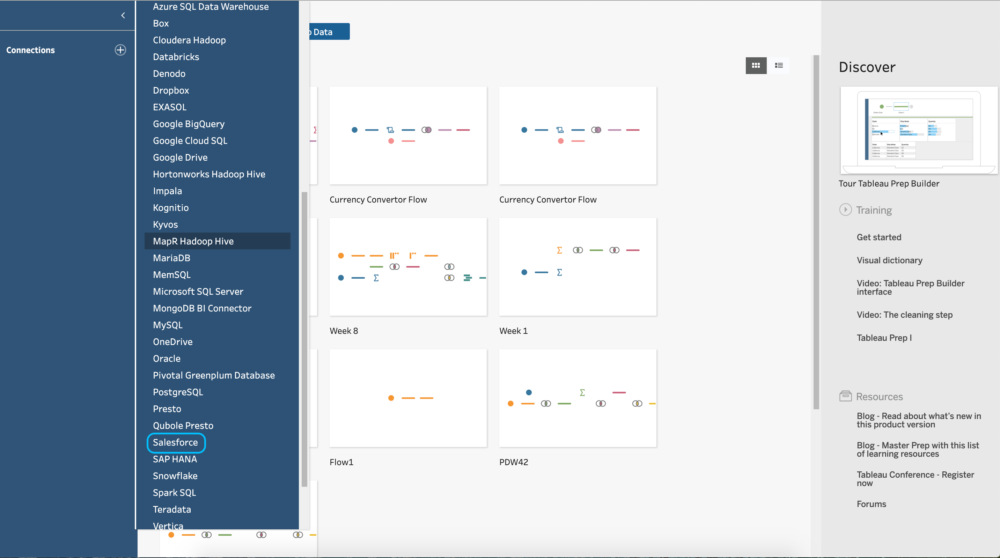 Now if you head back to Tableau Prep, you will see a list of all the tables in your salesforce org over on the right and side. As far as I'm aware, these aren't organised in any fashion at the moment. So I've found it's easiest to just search for the table(s) you are interested in rather than scrolling through the list.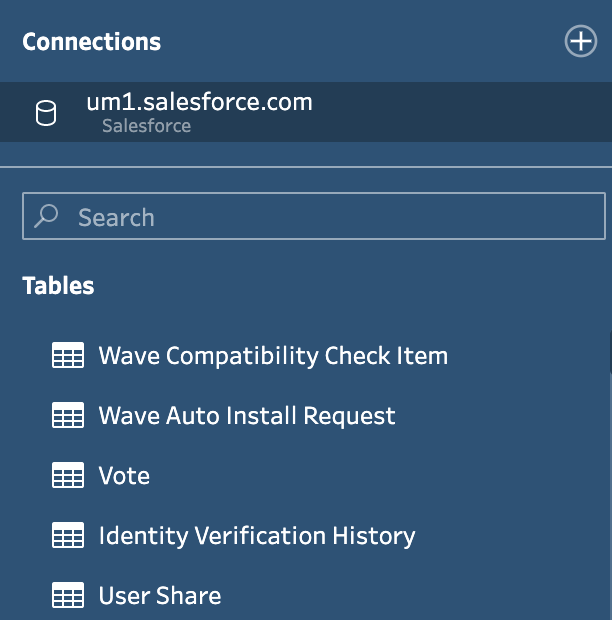 In this example, I've dragged my opportunities data to the canvas. This data is coming from a Trailhead Developer Org so it may seem familiar if you have carried out some of these modules.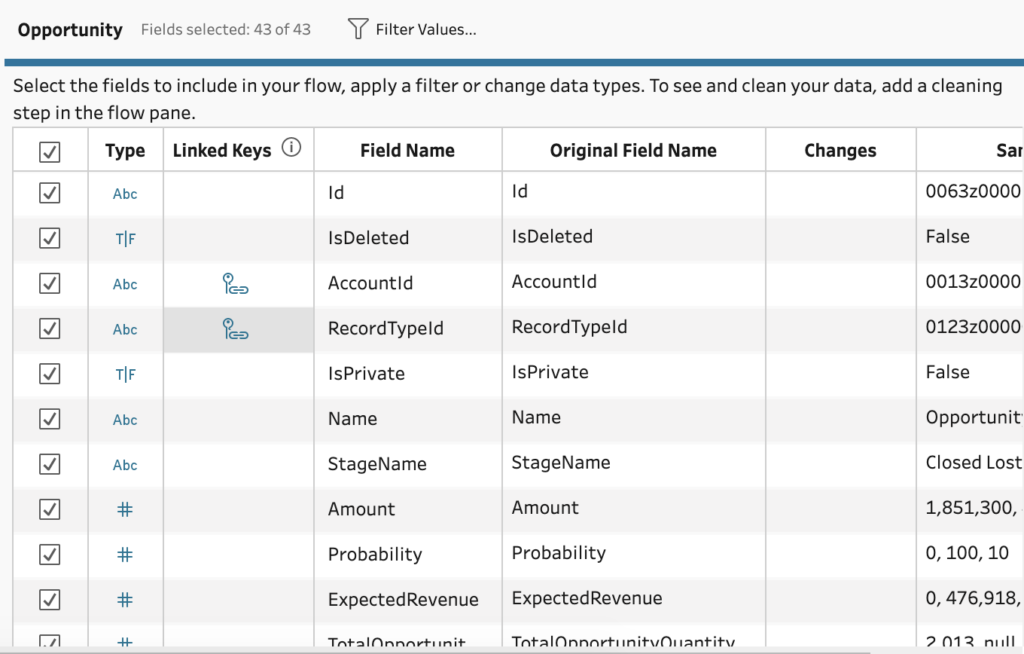 You'll see in the profile pane that we can see all our field names, types etc. We can also see a 'linked key' column. This indicates that the field links to a field in another table. By clicking on the AccountId linked key, I can see that this field is related to the Account table. The symbols that can be seen in this column are shown in the image below.

After previewing my opportunities data, and confirming it is what I was expecting, I'm going to bring in my accounts data to join onto my Opportunity dataset using the AccountID linked field.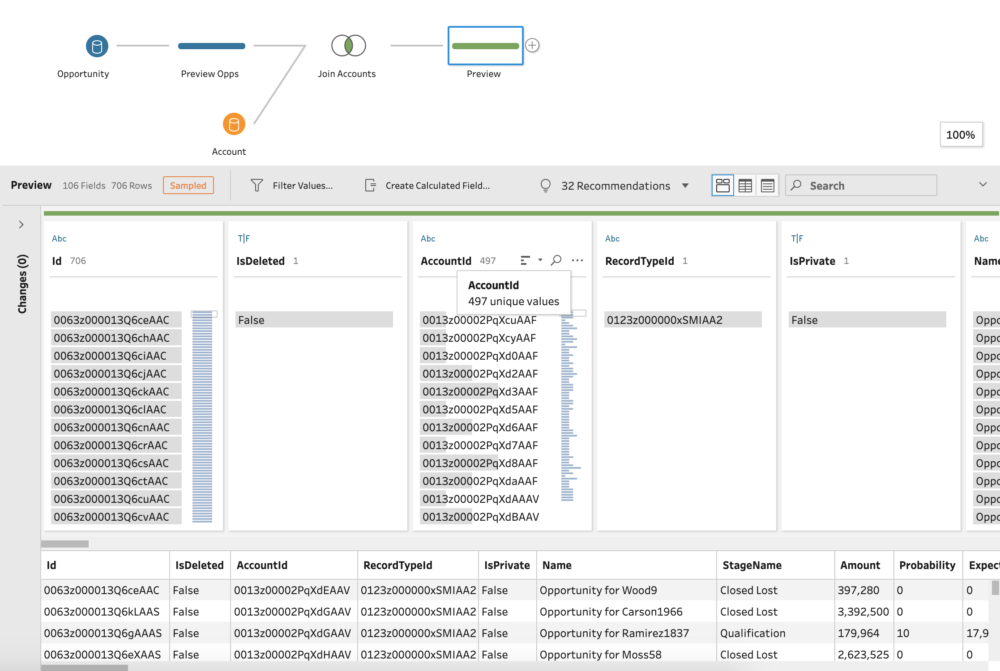 As you can see from the above image, I've very quickly joined two tables together from my Salesforce Org. From here I can build a flow in Prep utilising all of Prep's great features and publish the output to my Tableau Server. I can also have the flow run on my server and maintain the connections to my Salesforce Org.
Currently there is no option to write back to your Salesforce Org in Tableau Prep. However, you could just output from your flow as a CSV and then upload this to your org to use in Einstein Analytics. Having this connector will increase the capabilities of what users can do with their salesforce data.
The two main methods for creating datasets within Salesforce are dataflows and recipes, however, in my opinion, these are nowhere near as easy to use as Tableau Prep. Hopefully in the future there will be even more integration between the two.