<< Back

Tableau Blueprint: A Beginner's Guide
Tableau launched their new step-by-step guide to becoming a data-driven organisation this week during Tableau Conference Europe. So what is Blueprint and how can it help your Tableau adoption?
Whether your organisation is brand new to Tableau, or been using it for years, you're probably still on the journey to modern, self-service analytics. The Blueprint documentation provides the plan you need to develop your core analytics capabilities to help more people make data-driven decisions.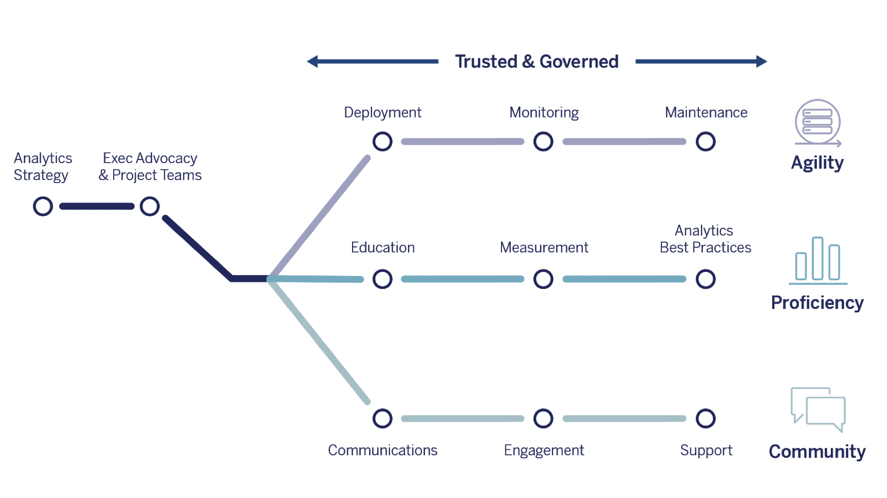 The 'underground map' shows your journey to analytics nirvana. Each station stop has its own guide on best-practices to aspire towards. If your organisation is brand new to Tableau and self-service analytics, it's best to start with Discover, Govern and Deploy. If you've already been using Tableau for a while then you'll want to re-visit those sections to make sure you're not missing anything important, but you'll probably focus on the Evolve section of station stops more.
Along the way you'll also find some great fact-finding surveys to complete with various people across your organisation. This will help you focus on the parts you need to improve. You'll also want to re-visit the surveys every so often to see how you're improving too. The surveys help you make data-driven decisions about your Tableau adoption. You've got to practice what you preach, right?!
The Information Lab will be releasing more blog posts on specific parts of the Blueprint in the coming weeks. Are you a customer with us? Then you can also get in touch with the Customer Success Team here to discuss Blueprint and how The Information Lab can help you reach your self-service analytics goals.