<< Back
10 Sessions to attend at Alteryx Inspire 2019
It's about 1 week until Alteryx Inspire 2019 kicks off in Nashville, so it's about time we shared some recommendations about sessions to attend, we've scanned the agenda and here's a list of sessions that we feel will really help take your Alteryx knowledge to the next level!

1. LEGOLYTICS: CREATING A LEGO MASTERPIECE USING ALTERYX – Wednesday, 12 Jun 2019 – 14:15-15:00 – Presidential Ballroom B

Well, lets be sensible, I couldn't write a blog on the top 10 sessions to attend without dropping my own in; in this session I'll be outlining how I used Alteryx to save myself some money when it came to christmas shopping.

I used Alteryx to build a lego-set of my dads face (check out the tweet below!), AWESOME RIGHT!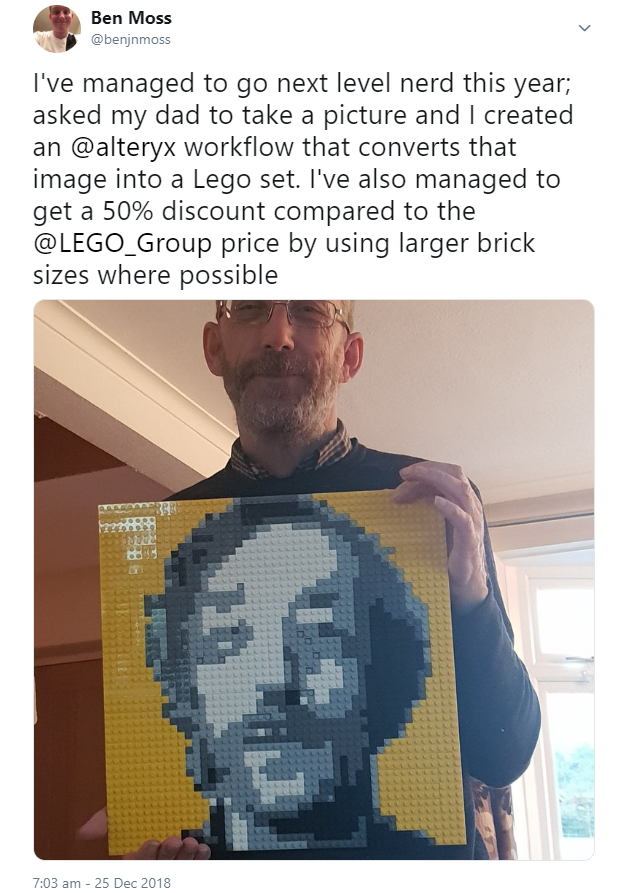 What I really hope makes this session stands out, is that rather than describe the problem and how I solved it, I'm going to get the audience knee deep in Alteryx and building their own iterative macro to solve a complex packing problem!
2. BE EXCELLENT TO EACH OTHER (A CENTRE OF EXCELLENCE ADVENTURE) – Wednesday, 12 Jun 2019 – 13:15-14:00 – Bayou E
I'm sure most of you have come across the term 'Centre of Excellence' by now on your analytics journey; well if you want to learn more and understand methods for aiding adoption of the Alteryx tool in your business, then this session by Garrett Lodewyck from KPMG is one for you.
KPMG have succesfully enabled thousands of users to leverage the power of the Alteryx platform, and they'll talk about the trials and tribulations of this journey.
3. PUSH IT TO THE LIMIT: OPERATIONALIZING YOUR MODELS IN PROMOTE – Wednesday, 12 Jun 2019 – 14:15-15:00 – Tennessee Ballroom A
I'm not sure why I'm doing this, but I'm going to advertise a session that clashes with me own.

This is your opportunity to understand the usecases for Alteryx's newest part of it's end to end analytics platform, Alteryx Promote.

Data Scientists, this one is for you!
4. WHERE IN THE WORLD IS CARMEN SANDIEGO?: UNDERSTANDING YOUR CUSTOMER – Wednesday, 12 Jun 12 – 3:15pm – 4:00pm – Tennessee Ballroom A
There's something I find fascinating about profiling an audience you are trying to target, with the abundance of data available these days companies are coming much better at targeting advertising, in order to enhance sales.

The below example (though mildly disturbing), show's just how far companies can now push.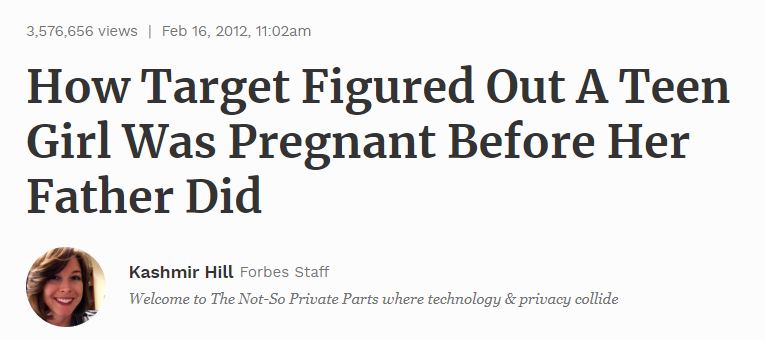 This talk by Alteryx and there data partner Experian, will walk through how Experian data can be used to create detailed customer profiles.
5. THE GREAT ESCAPE – Wednesday, 12 Jun 2019 – 13:15 – 14:00 – Presidential Ballroom B
The Information Lab, for the 3rd conference running, will be hosting the most interactive session of Inspire. Bring your laptops, form a team and get problem solving.
Last year the challenge was themed around Disney; you'll have to come along to find out what's in store this year!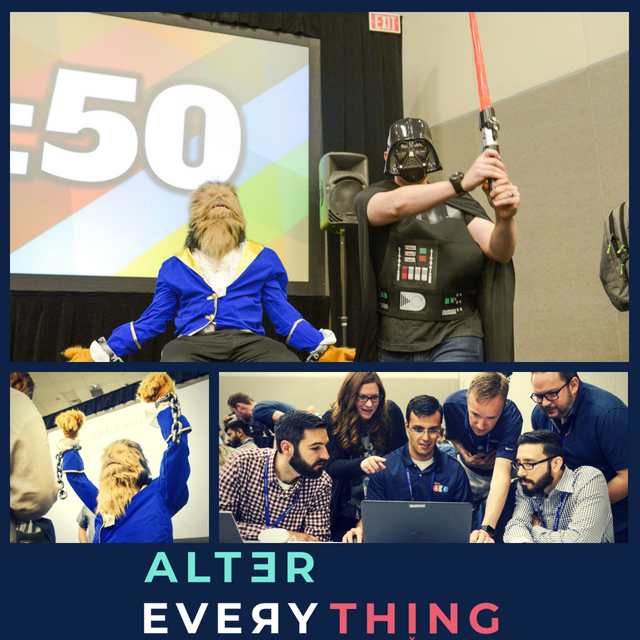 6. MAKE YOUR VISUALS POP – ENHANCE YOUR VISUALIZATIONS WITH SCIENCE – Thursday, 13 Jun 2019 – 8:00 – 8:45 – Tennessee Ballroom D, E
Alteryx's partnership with plot.ly was big news as it showed their intent of a significant overall of it's data visualisation reporting capabilities; this session will cover the new charting types, and also the science behind why data visualisation is so powerful!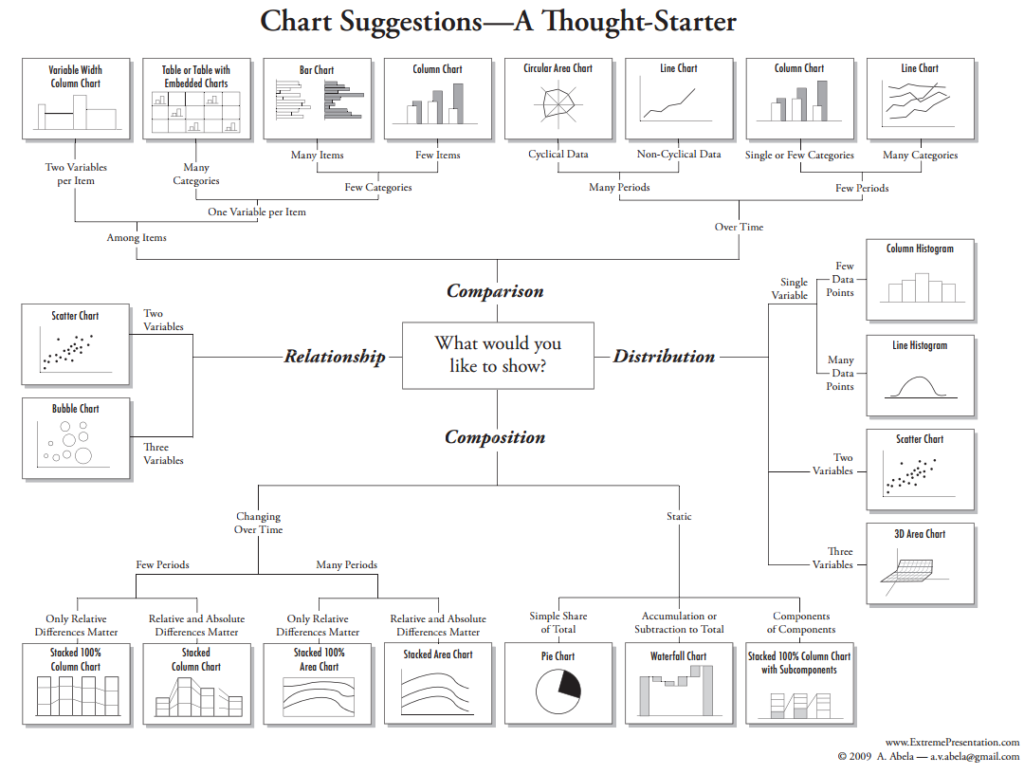 7. SERVERS IN THE CLOUD – STOPPING FRAUD WITH ALTERYX – Thursday, Jun 13 – 10:00 – 10:45 – Tennessee Ballroom A
I couldn't not recommend an Alteryx Server talk, and the reason this session stood out to me was the mention of 'Apps'.
I'm sure almost everyone get's how powerful Alteryx Server can be for designer users with it's scheduling capabilities, but Analytical Applications allow us to bring data services to the masses!

Suzanne Nieuwenhuizen of the Australian Financial Crimes Exchange will go through how they use dynamic applications to fight Cyber-crime down under.
8. HOW TO BUILD SCENARIO-BASED REVENUE & EXPENSE FORECASTS WITH ALTERYX PREDICTIVE TOOLS – Thursday, Jun 13 – 11:00 – 11:45 – Governor's Ballroom A,E
The predictive tools offer huge amounts of power to the regular data analyst; they allow us to make predictions on future behaviour, whether that be credit companies trying to understand whether you will make them $$$$, or even a simple use-case such as looking to make data-driven forecasts.
In this talk with Cetera Financial Group they'll go over how they have used the predictive tools to develop iterative what-if models of their business. They'll even discuss how they automatically refresh scenarios with ever changing macro-economic factors.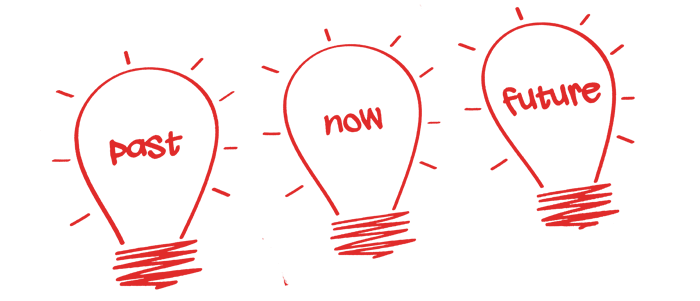 9. MORE THAN A FEELING: NATURAL LANGUAGE PROCESSING ON THE ALTERYX COMMUNITY – Thursday, Jun 13 – 11:00 – 11:45 – Tennessee Ballroom D, E
Sydney is one of the most active Alteryx employees on the community, helping us solve a whole host of different problems. Although Sydney doesn't give much away about how she does NLP in Alteryx in the session brief (I suspect using the code-friendly element), this will without doubt be an awesome session!

Who doesn't love text analytics!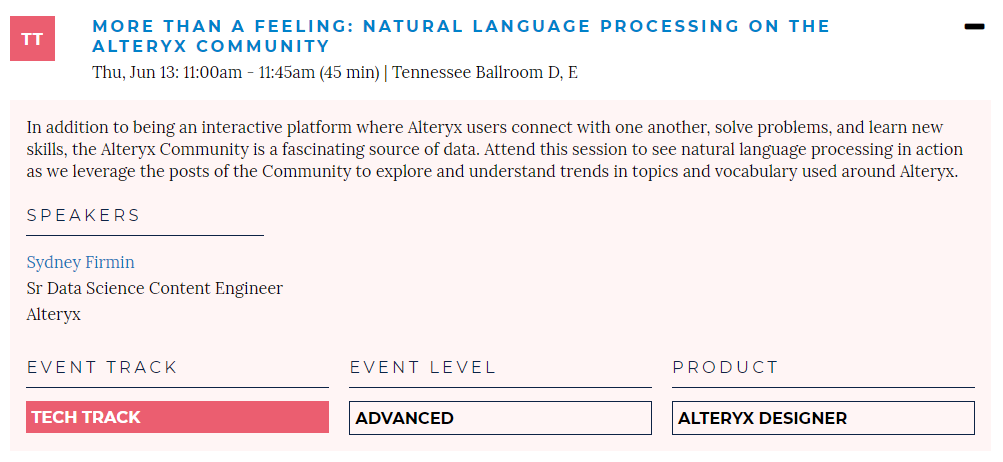 10. UX Labs – Wednesday, Jun 12 – 10:00 – 16:00 and
Thursday, Jun 13 – 08:00 – 12:00 – ROOM TBC
Not really a session of sorts, but the UX Labs runs through both the Wednesday and Thursday and gives users the opportunity to see and give feedback on features of the product which are in alpha/beta!
This is a fantastic opportunity to speak to those who help give direction on future of the platform, and who knows, you may even see one of your ideas in a future version of Alteryx!

I'm also hopeful that AEP, Alteryx's next generation server product features in this!
---
Of course, these are only some recommendations; I have purposely neglected the ACE Track offerings, just because, it's the ACE Track, all of these sessions are bound to be awesome!
And of course, the keynotes are going to give great insight into the future of the Alteryx platform.
Ben