<< Back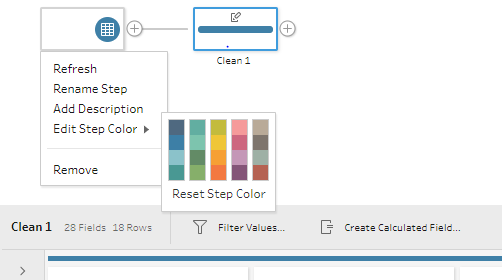 Tableau Prep Development
Tableau Prep launched in April 2018 to much acclaim due to an easily accessible user interface and some neat data preparation tricks under the hood. But what has happened since then? Personally, I have lost count of the various features have been added as the team have added many nice additions on their monthly release schedule. So I thought I would pull together some of favourites below
Changing the Colour of the Step
When teaching Tableau Prep, I have received a flow of questions of one particular aspect – changing the colour of the flow Tableau Prep forms. At first, this was more of curoristy to most users but over time the requirement changed to allow users to set logical colours for different steps in the flow or logical colours for different chunks of data they regularly work with.
Well, it's now in the tool: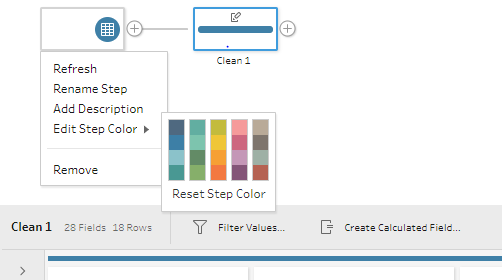 To edit the colour, right click on the step in question and then under 'Edit Step Colour' you can set your colouring from a choice of 20. If you have already other steps after the step you are changing colour you will need to do these separately. A nice little trick is that you can select multiple tools and change all their colours by the same process as detailed above.
For any tools that are added after the colour-changed step, will adopt the new colouring until you join / union different flows of data from other sources.
Adding Descriptions to Steps
Whilst we are talking about documenting your flows for others, let me make sure you are being a good colleague and adding descriptions to your steps.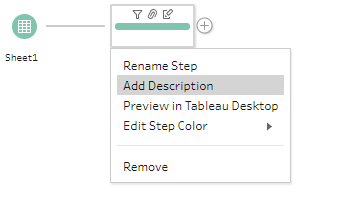 After right clicking on any step, you can now add a description to that step as well as renaming the step to ensure anyone else using your Flow File will be able to pick up your work and understand what you have done.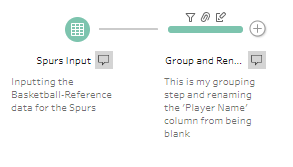 Adding additional values to group by in the future
Ok, hands up on this one. This feature was in the original release – I just never spotted it to later on so I feel like I might not be alone here. When you group values in Prep you have some amazing functionality to do this based on Pronunciation, Common Characters or Spelling but did you know you could add values that you are expecting to get in to the data set in the future, even if they are not in the data yet. I can't count the number of times I have had to build an IF statement to handle values (especially String values) to cover the new sales region, organisational restructure or a missing value you expect to be there.
In the example I have captured, I have pulled in San Antonio Spurs squad listing for this season. I have grouped the Veterans in to two categories and the younger players together.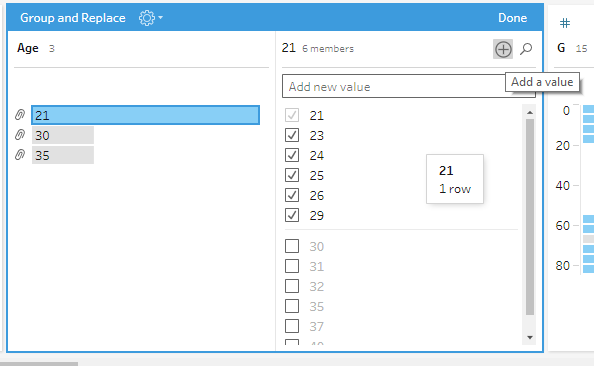 But what if the Spurs add a 27 or 28 year old player through a trade before I have completed my analysis? Well I can now add those ages to the Prep flow to handle that exact instance. Firstly, when grouping, click on the '+' sign in the top right after you have made a group and then you can add values that don't currently exist in your data set to that group. Genius!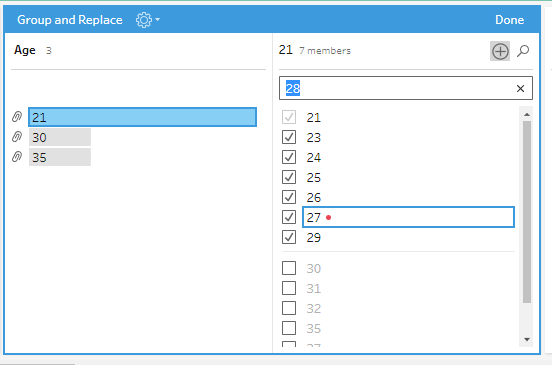 When adding those values, you will find they appear with a red dot next to them so you can keep track of what you have added.
That's my favourite three for the moment along with a plethora of others which I will detail in future blog posts.