<< Back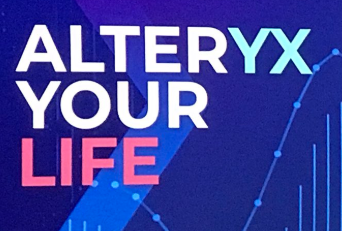 #Inspire18 The Uncoventional Convention
In early June Alteryx hosted their annual US conference, Inspire.
This year the 'unconventional' convention was held in Anahiem, and came with 2 days of platform training and 2 days of keynotes and tech talks, all designed to help their users understand the Alteyrx product suite with greater depth.
The Doors opened at 7:30am, and I mean literally, the doors opened the conference.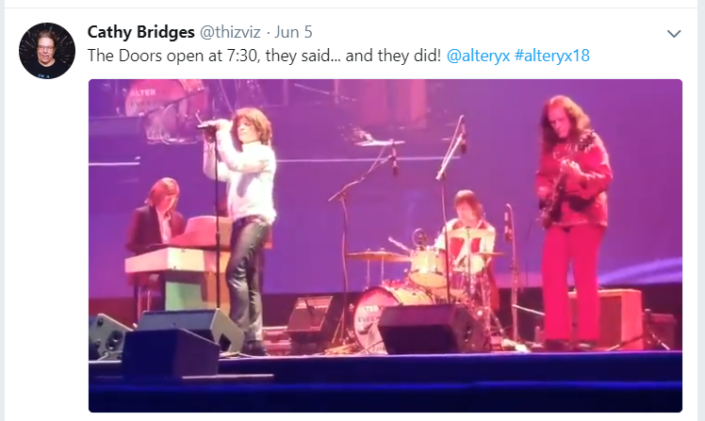 The opening keynote consisted of Alteryx CEO, Dean Stoecker, stating his belief that Alteryx want to become an end to end analytics platform, that performs all tasks, exceedingly well.
He outlined how he see's Alteryx Connect as a tool that allows users to understand what data exists within their business. How Alteryx Designer allows us to prepare and analyse our data in an intuitive manner, and how it allows us to build repeatable solutions which can be shared through Alteryx Server.
And lastly, how Alteryx Promote will help data scientists deploy their models in a more efficient and successful way.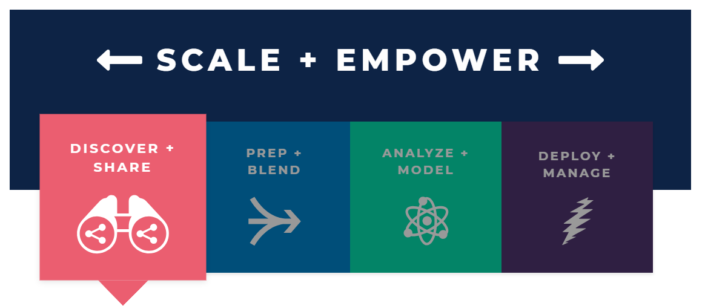 The keynote ended with a series of demos outlining new and improved capabilities that we should expect in the near future, some of which, we at The Information Lab, got extremely excited about!
In no particular order, we can expect the follow features SOON!
Stay in the flow longer with caching improvements – Users will be able to cache the data within a workflow in just two clicks. This will allow us to iterate and solve problems faster than ever before!
A more modern look with a Designer reskin –  You may or may not have noticed, but if you navigate to Alteryx.com, they have had a re-brand, representing a more playful and modern look. We can expect this design style to be replicated in the new platform with a more intuitive process flow.
Dive into your data with an interactive results pane – The traditional results window will be searchable, filterable and 'sort-able'. This will allow us to quickly investigate how Alteryx has performed a task and whether it has done so in the manner we expect. Not only this, but with two clicks, we'll be able to add any of these operators as a new tool which will then be inserted into the workflow.
Build and deploy dashboards with improved reporting tools – In late 2017 Alteryx partned with Plotly, a company who specialise in creating interactive data visualisations. The conference allowed us to gain a first view of what to expect from this partnership. The reporting tools will be compressed and made simpler to use. Charts will become more customizable and will be based on D3.js, meaning they are interactive too! Finally a new dashboarding tool will allow us to bring individual charting elements together and be shareable through Alteryx Server.
Play with Pandas in the Python tool – We have the R tool, we have the Spark tool, in the near future we will see a python tool, which will allow us to write python script within an embedded jupiter notebook directly within Alteryx. So no flicking between tools in order to perform more customised data science type tasks!
This list is of course not exhaustive, and there are many other features to get excited about, more intuitive Alteryx Server permissions being one of them, but we'll keep you on edge with what else to expect!
---
Over the next two days there were some fantastic talks and initiatives. The UX lab allowed users to get a closer look and feedback on some of the new features highlighted above. The solutions centre was packed throughout (as it always is), with users getting answers to their complex business problems they just haven't been able to tackle.
The Information Lab were announced as the EMEA Alteryx Partner of the Year, a credit to our hard work in helping businesses reach their goals with Alteryx.
There was also the Alteryx Grand Prix, which our very own Ben Moss (myself) took part in! Unfortunately he (I), didn't win, but the event was fantastic and entertaining and we congratulate Nicole Johnson on her victory! Nicole is extremely active in helping people get solutions to their problems on the Alteryx Community and is a huge advocate of doing the weekly challenges to improve your Alteryx skills!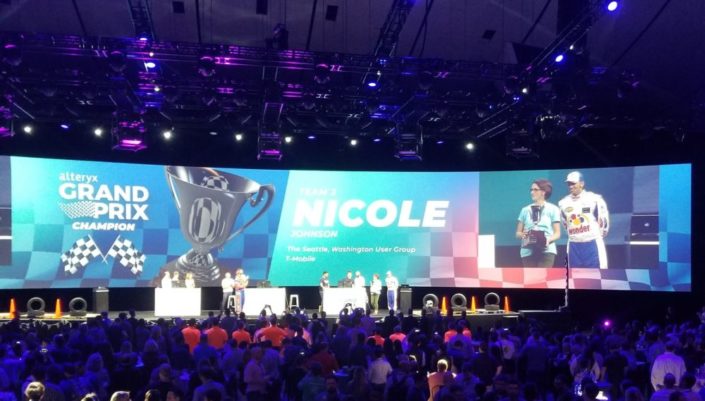 The conference concluded with a keynote by Olivia Duane Adams, the Chief Customer Officer of Alteryx who outlined how important customers are to Alteryx's success. She also announced the launch of the Alteryx Expert Certification!
Don't forget the Alteryx conference (Inspire Europe) will be coming to London in October! And next year's US conference will be hosted in Nashville, Tennessee!