<< Back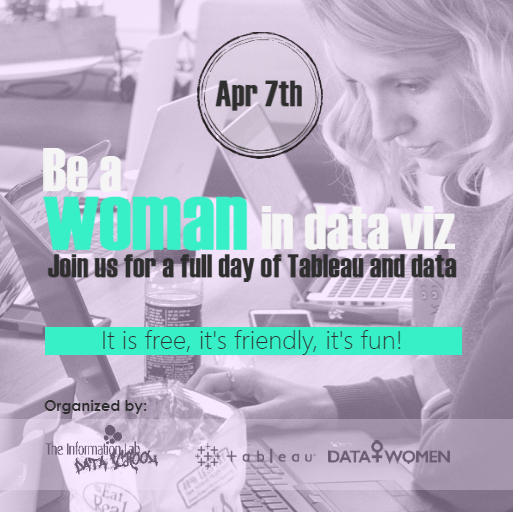 Event: Be a woman in data viz
Come for a day of fun and data at The Information Lab offices in London and learn how Tableau can open the door for a new and exciting career in data visualisation.
The Data School programme has helped The Information Lab to welcome 23 women to the UK team of 76 data enthusiasts in the last two years. This 30% is a great start but we'd like to support more women in finding a career in data. That's why we've teamed up with Data + Women and Tableau to host a women-only event on Saturday 7th April. The event will show how Tableau can help you find insights from your data and better communicate your findings.
Interested in taking part? Fill in this short form and tell us why you'd like to be a woman in data viz
What will the event involve?
A chance to chat with female members of the data viz community

An introduction to Tableau as a tool for data analysis and visualisation

The opportunity to create your first Tableau dashboard to share on Tableau Public   
Do I need to have any technical skills?
No, you only need to bring your laptop, your ideas and your desire to learn. We will cover all the basics — how to connect to a dataset and what the first steps are — so no previous knowledge of Tableau is necessary. We'll also have some datasets available for you to play with.  
What's so great about a career in data viz?
Creativity
It's not just designing dashboards or creating colour palettes that lets you get creative; a lot of data puzzles need creative solutions
Communication
Data visualisation allows you to transform complex ideas into visuals, making it easier for people understand their data and use this new information to take action.
Curiosity
Do you like asking questions? By digging into data you can learn a lot about the world around you.
Why Tableau?
There are plenty of data visualisation tools out there but Tableau's drag and drop interface makes it easy for anyone to use. It allows you to explore data as well as present your findings. Tableau has also been ranked as the third-most in-demand technical skill by Forbes.
Come along on the April 7th and see if data visualisation is the right career for you.
The important on the day details
What:  Be A Woman In Data Viz
Where: 33 Cannon St, London
When:  7th April from 9:30 AM to 5:00 PM