<< Back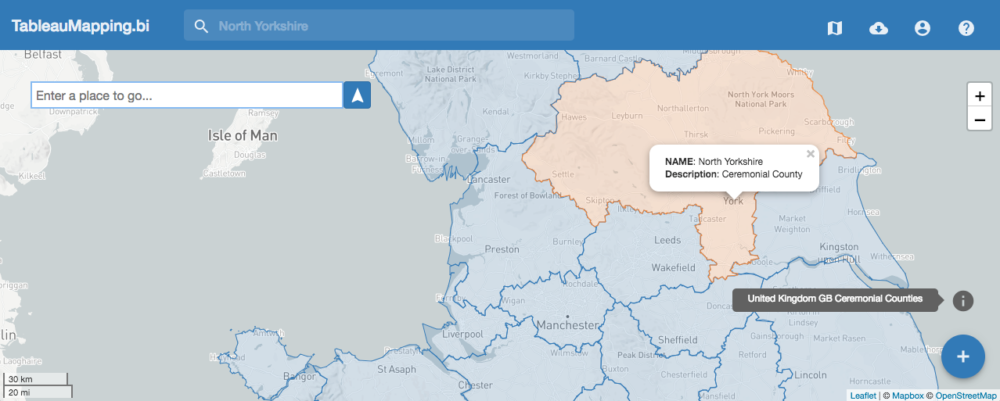 TableauMapping.bi Goes Social
Since the launch of TableauMapping.bi back in 2013 I've had one single goal: Make mapping in Tableau easier by democratising the world's spatial data. The driver for which has been Tableau users emailing me asking
"Can Tableau create a map of x region?"

"I've got some location information in my dataset but Tableau doesn't recognise it"
and most common of all
"Tableau knows the city I'm trying to map, but it doesn't seem to know its boundary, or the districts it's broken down into".
Now, all of these questions have never really been about mapping capability in Tableau. Tableau Desktop can draw any map you want it to. What all mapping questions are about is data! Specifically:
Where can I find data for x region?
How do I convert spatial data types into latitude & longitude?
How do I shape my data to draw a Tableau map?
Can you help me seamlessly bring added spatial data into Tableau?
TableauMapping.bi as a resource has always tried to make solving these questions as easy as possible. The blog was organised by country so you knew what was available for your area of the world. Each post had a preview of the data in Tableau Public, a list of its attributes, and a download link for TDEs already formatted and ready to be blended into your dataset.
But it was never perfect.
For one, blog posts are cumbersome to switch between and examples on Tableau Public meant switching between different tabs to compare datasets. The datasets themselves had to be downloaded, stored, blended into a workbook (and if you don't know how tricky a blend can be to get right you've never tried it), and weren't easily updated once downloaded from the blog.
The worst part of the old site, and what bugged me the most, was how difficult it was to allow others to contribute. Making sure there was a commonality between posts and datasets was almost impossible and worst of all this community who loves to share & help others was blocked from doing so because every account had to be manually created by myself with long instructions sent out detailing what to do.
The Remake
Back in December 2017 I launched v2 of TableauMapping.bi.
Today is my 6th year working with the amazing team at @infolabuk. I've decided to mark the occasion with my favourite #tableau feature…mapping. TableauMapping.bi v2 is now live https://t.co/HOZQItKla4 #datadev pic.twitter.com/g5mOWwUI5J

— Craig Bloodworth (@craigbloodworth) December 1, 2017
v2 of TableauMapping.bi came with a whole bunch of new features:
Map Preview is Front & Center
The Index
Data Direct to Tableau
Map Preview is Front & Center
When you're looking for spatial data you want to see a map! Not a blog post, not a whole bunch of tabs to navigate…the data should be right in front of you.
Go to TableauMapping.bi and that's what you'll find. The map will automatically shift itself to wherever you are in the world. Then, take a look at the + button in the bottom right and you'll find a list of all spatial datasets covering your region. You get the data that's important to you by default.
For other datasets simply pan the map or use the navigator to get to exactly where you're interested in. The list will adjust based on the location you're looking at.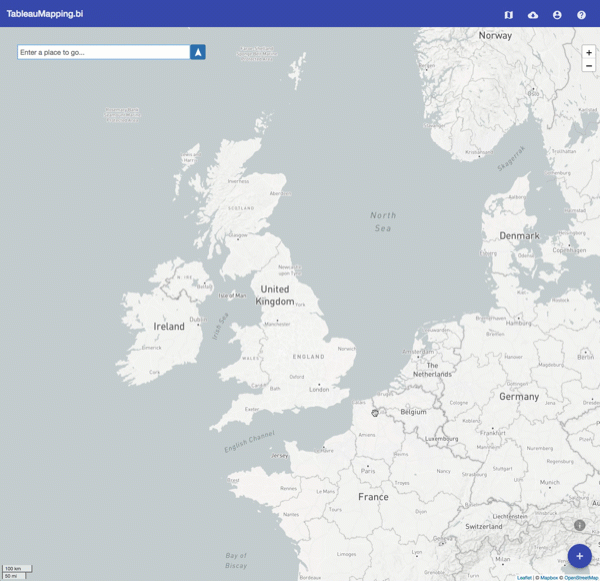 The Index
Probably my favourite feature of the new site is the index that powers the search bar in the site header. Do you know the difference between a ceremonial country and a metropolitan district? Probably not. What you do have is a dataset with a place name in it. So how do you know which dataset to choose?
The search bar not only knows all attributes for all the datasets on the site, it knows where they're located and can give you an instant preview. Give it a try: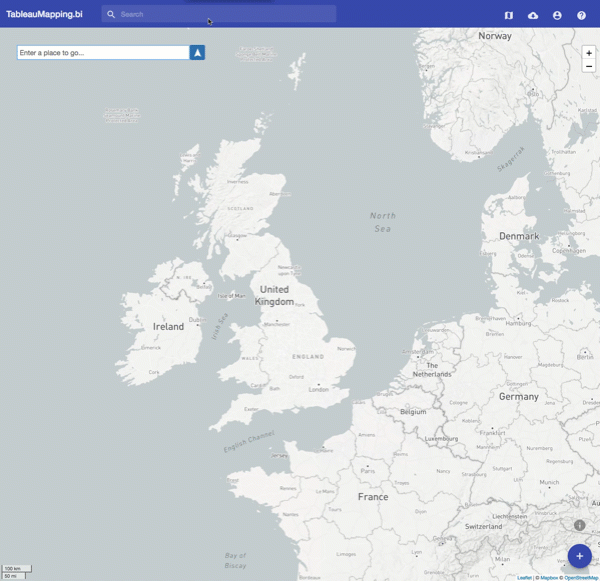 Data Direct To Tableau
OK cool so there's a new web app and a powerful search. But how do I get my data into Tableau?
For anybody who's followed my work the past couple of years you'll know just how much I love the Tableau Web Data Connector, and so no surprise there's a WDC build right into TableauMapping.bi
To bring spatial data down straight into your workbook simply create a new connection and point the Web Data Connector at https://www.tableaumapping.bi/wdc
Then choose the dataset you're after and get right back to your analysis! If you're at all unsure how to make use of the Web Data Connector and TableauMapping.bi take a look at the help page for everything you need on building your perfect map.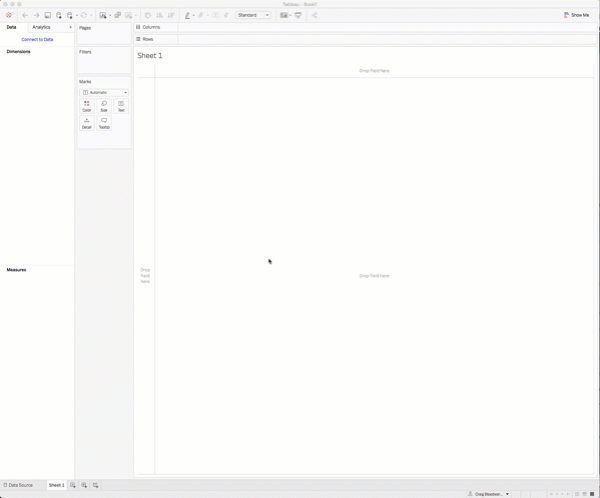 Adding the spatial data to your existing data can either be achieved via a blend or by a cross-database join. I plan to write a dedicated post about this and will update with a link once it's live.
The Tableau Public of Spatial Data
I really hope you like the new site and find it a great way to supercharge your Tableau mapping experience.
But there's one more thing. One more aspect of spatial data that I am keen to tackle, and that's the sharing of spatial data. The Tableau community is awesome, and probably one of the most active and helpful online communities around. From the past 5 years of running TableauMapping.bi I know there's loads of folks out there keen to share the spatial data they use for their local region. After all I may know great places to get data on motorways and counties in the UK, but I don't really know where to start when it comes to prefectures in Japan or the regions of Brazil.
This is where you come in. That go-to shapefile that you're always using for your government spending analysis, or the geojson data you've curated of Canadian Geese migration paths, what if you could add those to the TableauMapping.bi repository so that others may benefit?
Well now you can. With the help of our friends at Mapbox and Alteryx it is super easy to share your spatial data with the world.
It all starts by creating yourself a TableauMapping.bi account and, if you don't already have one, a free Mapbox account in which you'll store your data.
Sharing your Spatial Data
Here's how it works. Login to TableauMapping.bi and link your Mapbox account using an access token (if you want more info on doing this there's full instructions on the help page)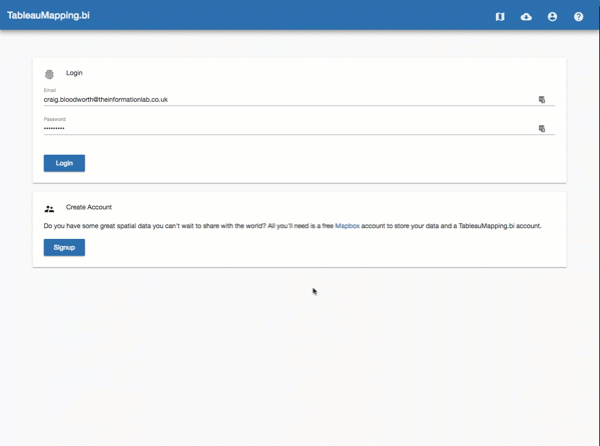 Then, populate your Mapbox datasets with all the spatial data you'd like to share. You can go this by either uploading geojson data directly to your Mapbox datasets or, if you've got a shapefile (.shp), using a dedicated Alteryx Gallery app.
Finally choose the dataset you'd like to share from the Datasets list in TableauMapping.bi, add some metadata, and make it public.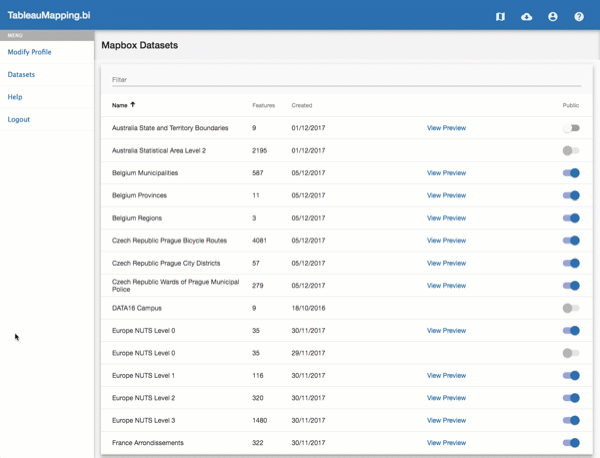 For everyone who does decide to share their spatial data, on behalf of the entire Tableau Community, thank you! Your work and your dedication will help more people fall in love with mapping in Tableau.
That's it for now. Please to reach out to me on Twitter with any feedback or feature requests and watch my feed for all future update news.