<< Back
7 Tips for Creating a Topical Data Viz
For those of us with a Tableau Public account then creating an interesting portfolio of data visualisations holds many advantages. For many of us it serves as a resume, a talking point, a business card and a training aid; it helps us learn new skills and shows others our interest in data visualisation and data analysis.  Tableau Public offers professionals, journalists and hobbyists the ability to tell stories with data and help the public see a brand new angle on data that is both new and old.
Finding new and interesting stories to tell is often a challenge, especially in a social platform with so many sharing new ideas all the time, but one way to share new data visualisations is to keep the subject topical and follow news events. Topical events create peaks of interest on social networks and give you a new slant on a story that is already in the minds of your audience.
Now you've decided that creating a few topical data visualisations is a good idea then below are some tops tips for finding and creating topical content that will resonate with your audience.
Look at every news article or event with #dataviz glasses
Almost every news event contains data, go look now at some news articles and you'll see what I mean. Yes, usually it's hidden in paragraphs, not in a nicely formatted table, but it's there. And there are some unicorns out there, if you lucky, those rare articles which will actually give you a dataset to play with (example). Check the article sources, if the author shared them, often you'll find a dataset hidden somewhere.
Does the data in the article give you enough to create a meaningful data visualisation, even a high level one? Does it increase the understanding of the article (clue: unless the data is already visualised then the answer is almost certainly "Yes").
If data has been gathered by FOI requests then typically organisations will publish these publicly – so check public bodies to see if their websites hold the original data sets.
Some websites are better than others at producing articles with datasets, look around and subscribe to feeds of those most likely to give you nuggets of gold along the way.
Don't be afraid to create your own dataset
As we've noted it can be frustrating when you don't have a data table to copy, but don't be afraid to create your own directly from numbers quoted in the article or associated sources. Two rules if you do: CHECK and ATTRIBUTE.  Nothing ruins a data visualisation (or a repuation) quicker than incorrect data and so ensure you have it right, and also ensure you acknowledge the source.
Alternatively for news events then you can create your own datasets by connecting to Live APIs and using their data to show the event in detail, this is something my colleague Craig Bloodworth did for a large UK weather event in 2014.
[tableau url="https://public.tableau.com/views/UKStormWeatherAnalysis/WeatherMap?:embed=y&:display_count=yes&:showTabs=y" width="600″ height="900″][/tableau]
Make it fast and simple
Topical visualisation means time is of the essence and so don't hang around for days waiting to create your masterpiece, strike while the item is newsworthy and you have an audience. Generally that means the same day the original article or data source is published if you want to ride its coat-tails.
In a similar manner don't go trying anything too complex if time is of the essence. A simple headline chart to share alongside the original article will help your audience, if you have time for more then great but no isn't the time for trying a new technique, stick to keeping it simple and getting across your key message.
Andy Cotgreave recently published this data visualisation within just a few hours of the original news article being released; his clean, simple lollipop chart with annotations tells the story well without being too complex to create.

Add something to the original source
If you can then try and give your audience an added bonus. The article here allowed users to search for their library but didn't give any way to show it in context with others, in my visualisation (below) I tried to show all local authorities to give the user something that was missing from the original article.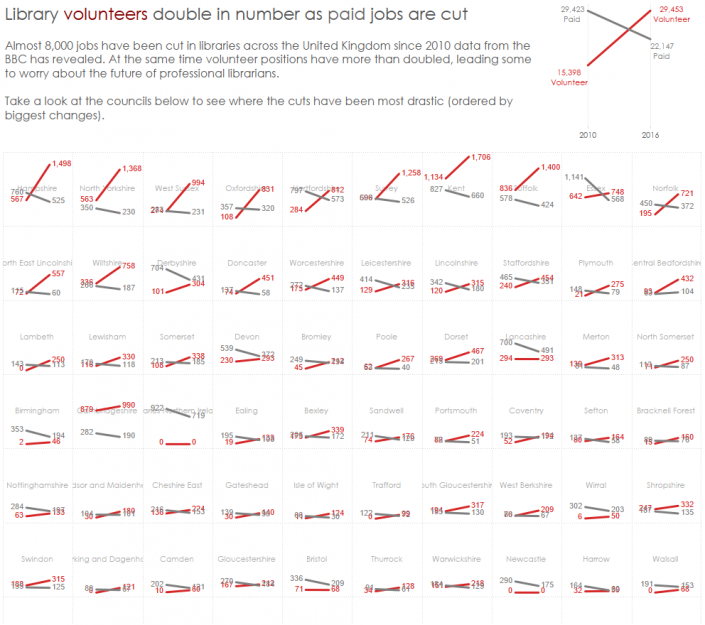 The key here is ensuring your visualisation supplements and improves the raw numbers or data provided in the original data or article. Doing so improves the user experience and ensures your audience will share it over the original.
Don't be afraid to get opinionated
An editorial or opinionated style will help your visualisation gain traction over an above a simple "fact based" visualisation. Hard hitting headlines and stark messages can really hit home your message – don't be afraid to use powerful, subjective data visualisation techniques (Iraq's Bloody Toll anyone?) to tell your story. Just make sure you don't distort or mislead your audience along the way.
Prepare for upcoming news events
Don't have time to hunt down datasets and prepare topical datasets in your working day? (who does?) Well one way to stay topical is to look ahead for events and anniversaries that you can take advantage of. The Queen's 90th Birthday? Ww1 Centenary? Cricket World Cup? Anniversary of the sinking of the Titanic? 100 episodes of your favourite TV show? Look ahead and get prepared – share your visualisation at the right time and there's a huge potential to hit a sweet spot and get lots of views and shares.
For example Adam McCann prepared for the Oscars last year by sharing this fantastic visualisation of the potential winners.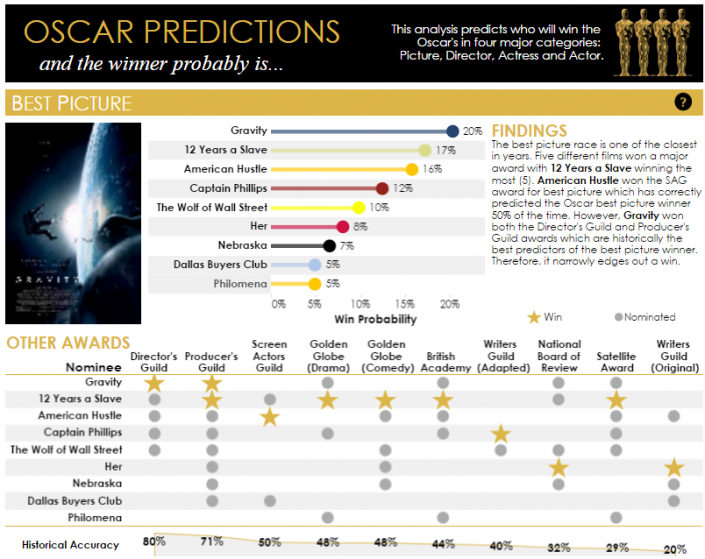 Sport is always topical
Still lost for ideas? Sport is always your friend, it's data rich and there is a huge audience. Using Alteryx and Tableau last year I was able to produce data visualisations within minutes of wickets falling in the Ashes that got national coverage on the BBC – it's all about being relevant and topical.
[tableau url="https://public.tableau.com/views/Ashes-4thTest/Overview?:embed=y&:display_count=yes&:showTabs=y" width="850px" height="1100px"][/tableau]
Conclusion
Remember Tableau Public isn't a competition for who can create the "best" visualisation, it's about story telling through data and sharing our passion for a data-driven narrative. Have fun, get creative and share your topical stories.