<< Back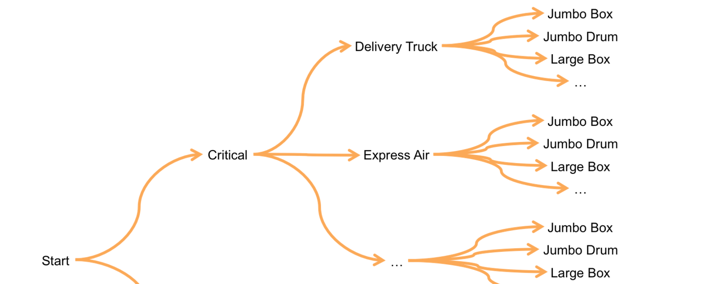 My love/hate relationship with Tableau edge-cases
As the community grows and new users join, published work on how-tos and cookbooks become more and more important. But as a community gets bigger the ability to stand out as a leader becomes more difficult. One solution to this is to publish what I'm going to term 'edge-case' work, as in pushing the software and its use to places never seen or even intended. While this can inspire I worry that far too often it can push new users down. Setting the bar so high and unachievable it frightens those who wish to step out of their comfort zone. Here's how I think we can all, as a community, avoid that from happening.
Why edge-cases are so important to the community
Readers can learn so much from them Tableau Public is an open book (assuming you choose to share your workbook) and so any interested party can dive right in and explore your workbooks – learning from your techniques and applying them to their own work. Many of us learn best like this: exploring, tinkering and hacking. By giving these edge-cases the creators give the community the chance to build on and improve each others work and learn along the way.
They show complex problems in a fun way  Often it's hard for bloggers to share the work they are doing in their day job. Creating fun edge-cases gives them the chance to show interesting and new ideas, which are often complex and have taken a lot of development, in a fun or interesting way. It makes it fun for them to do, and makes it fun to read too.
They often provide work-arounds for problems that are hard to solve in Tableau Sometimes edge-cases explore difficult problems, challenges we all have doing what we want in Tableau. These challenges range from creating the design or interface we need or technically achieving a complex filter. Edge-cases give authors the chance to show their solutions.
There's an immediate buzz from seeing something new presented in the software I love Users love to see the creativity of expert Tableau users – it inspires them. I have often been at events and heard from users who have said "I loved what you did with that XXXX that was crazy – where did you even get the idea?" or "did you see that XXXX built a YYYY in Tableau?" . It's a fantastic conversation starter and brings new people into the community all the time.
They give feedback to Tableau Complex workarounds give feedback to Tableau. They show issues users are having that need a more elegant solution or feature in the product. Tableau is committed to making the product easy to use, if they see users going to extraordinary lengths to achieve something simple they will take steps to minimise it in future versions.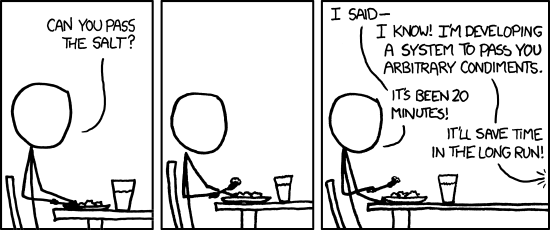 (Courtesy of XCD)
Why can edge-cases be detrimental to the community
They detract from what Tableau is great at Tableau is the market-leading self-serve data visualisation tool, it is not a way to build software applications, or games. Losing sight of what the tool is great at, and forgetting how it should be used, risks watering down the message the community has worked so hard to promote over time "Tableau helps you see and understand data". Full Stop.
If there's nothing to learn When the author doesn't share what they learnt and only presents a finished solution – what is there for to learn?
They can make even experienced users feel inadequate I have spoken to several users who have been demoralised by complex posts, feeling that Tableau is a very complex subject and they will never master it in the same way that I have. We owe it to the community to continue present easy solutions and distil difficult subjects into simple terms.  Zen Masters, ambassadors and bloggers should have this at the forefront of everything they do.
Presenting edge-cases: Recommendations
With this in mind I want to lay out a series of recommendations as to how I think we, as a community, can all lay out edge-cases in a way that ensures everyone benefits.
Lay out the reason for your post Set your motivation for the edge-case, why did you decide to considerable time and effort on this particular challenge. What is it you want the community to take away from this post? What can they learn? How can they take your ideas and apply them to their work? If you're just building something complex for the hell of it then explain why you chose Tableau – there are lots of tools out there. Often these complex solutions require more work to create in Tableau than in, say, D3 (because you're stepping away from what Tableau is good at) and so explain why you didn't use them. Think of your audience and what they want to see – this may not be what you want to show them.
Point out the alternatives It's important that new users are given an informed choice. Are there simpler (but less effective) ways of achieving the same thing? Is another product better at it? Have other people blogged about similar ideas?
Present the takeaways and learnings for the reader If you are presenting methods and processes which readers can take away and apply then make them central to your post – anything else is incidental (but will undoubtedly get lots of attention). Providing a how-to for any key learnings and perhaps presenting them away from the complexity of your edge-case will help people learn.
Remind the reader what Tableau is good for Remember why we're all here, it doesn't harm to remind people what Tableau is great at.
Example
Olivier Catherin does a great job of demonstrating how to build a Decision Tree in Tableau, his post steps through an explanation of what he has achieved, how it works and how others can build it. It inspires us with what we can do with Tableau and also simplifies the idea into a series of steps. Presented differently this may have looked complex, but Olivier has presented his solution effectively with a thought for the new user to Tableau.

Conclusion
We are an amazing community, what we create and share every day is the envy of communities across the globe. The temptation to go bigger and better (and crazier) than others is huge, but that should not be seen as the definition of a leader within our community. Effective leaders lead by example: sharing, rewarding and helping and they should aim to make others feel comfortable.
New users join our community daily, old blog posts and tips and tricks get lost over time. There are plenty of simple tips and tricks in Tableau, let's not forget those as we grow.