<< Back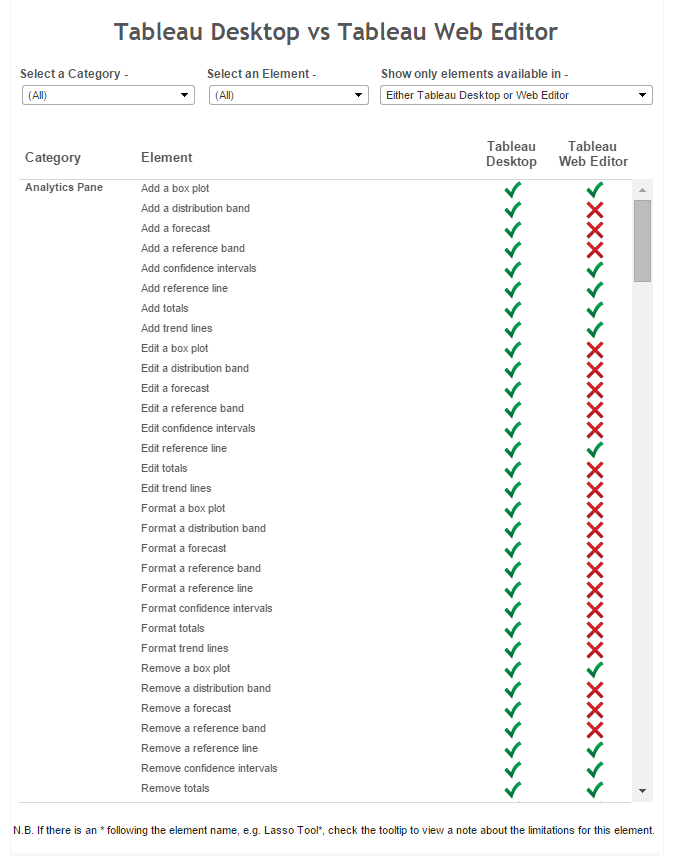 Tableau Desktop vs Tableau Web Editor
When comparing Tableau Desktop and Tableau Web Editing it's important to understand what exactly you are hoping to achieve. A lot can be done in both but for full report creation Tableau Desktop has all the capabilities available. Web editing is usually used as an ad-hoc solution to build on or edit existing workbooks, therefore it doesn't contain all the functionalities available in Tableau Desktop.
Some of the most important elements that are missing from web editing are: metadata changes to Dimensions and Measures, dashboard and storyboard creation, and the creation of parameters.
There are also serious considerations around security. The existing workbook permissions are applied to a Saved As workbook and a workbook created from a data source connection has the permissions of the project, so no changes to workbook or user specific permissions can be applied when saving.
Below is a workbook I have created showing the available elements in Desktop and Web Editing, in the current version, 9.0.5. I am sure I have missed some so feel free to let me know!