<< Back
Tableau Design Month – Part 2: Cash Crop Competition
Hi, we're getting involved with Tableau Design Month at The Information Lab. You can find out what's going on during the month over at the Tableau Website here but in this post we wanted to start posting links to our teams redesigns for the competition announced there.
If you haven't seen it Tableau have called for people to redesign the infographic below, produced by Information is Beautiful. Click to be redirected to the full infographic:
At The Information Lab the team can't resist a challenge and so here we're going to feature our redesigns as they're done, keep checking back to see more as people add them.
First up is Chris Love, click the image below to see his dashboard in full.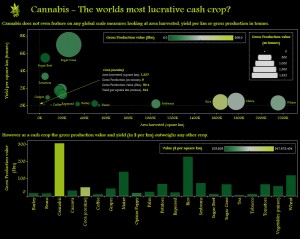 Next up is Tim Ngwena with his entry.
Check back soon for more entries from the team. We'd also love to see your redesigns, we may even feature our favourites on this page too so let us know via twitter or in the comments below if you have had a go.