<< Back
Dynamic Sorting based on user Selection
Is it really my second blog post in less than a week? I know…I am quite impress myself.
In my previous blog we have seen a technique to having total and subtotal not affecting heatmap and highlight table colour shading and size.
What?Have you missed that?
Well…don't need to apologise… you can still find it at the link below:
Highlight & Heatmap: The "Total" Problem
Today I would like to talk about a completely different topic…SORTING.
Do you know how many different way of sorting are available in Tableau?
If not, go ahead and ready this quite useful blog pose written by my collegue Emma Whyte:
http://www.theinformationlab.co.uk/2014/11/03/understanding-sorting-tableau/
In this specific blog I will talk through an advance sorting technique, I have learnt during one of my recent client engagement.
The aim of this technique is creating a dynamic way of sorting based on user selection.
Let's stop talking then and dive in Tableau to review this functionality.
The workbook below is based on Superstore Sales DB (Excel) shipped with the product.
Click the image below to review the workbook: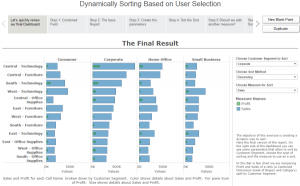 In this workbook you will review as well:
How to create and use Parameter
Sorting
Dual Axis
How to create Bar in Bar Chart
Useful link to similar topic:
Jonathan Drummey's great Tableau Wiki
Nested Sorting from Tableau's Knowledge Base