<< Back
Premier League Table – Visualised in Tableau
There are a number of articles in the public domain that provide a 'starter kit' for learning to use Tableau. They include the excellent 20 Days to Tableau Success by Lari McEdward.  I can highly recommend these approaches but I find there is one extra step that really helps to take my learning forward. That step is to start with nothing but an idea and run with it.
It means tracking down the data and starting with a blank screen but this is how you discover the power of the Tableau on-line resources and community. These resources then start to gel with the learning processes that you've already been through. Finally, you get the reward of seeing what you first envisaged beginning to appear before you
Many of you get to go through this process in your day to day role with Tableau. However the nature of that work may cause you to focus more on one particular area within Tableau. This certainly applies in my role. So following an idea takes me out my comfort zone and into new areas of learning, which brings me back to the title of this blog.  The idea that I ran with was to see if it was possible to enhance an iconic table of data using Tableau. There aren't many more iconic tables of data than the 100+ year old First Division/Premier League Table.   The improvements that I'm looking to introduce by visualising the data are covered in more detail under the Overview tab in the dashboard itself.
You can click on the image below to go directly to the dashboard, which also includes instructions for use. You can also see a review of my own personal learning further down this blog post. It's not in-depth review but feel free to get in touch if there are any areas of interest. I hope you like it.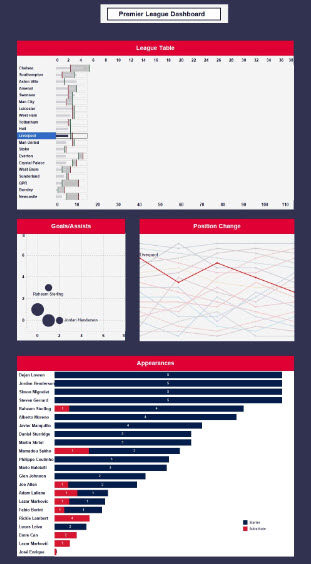 Custom Colours
I have to own up to augmenting my design skill by borrowing colour themes from across the web. I did this using a free on-line colour picking tool that gave me the RGB codes. I then saved these in the 'Preferences' folder in My Tableau Repository, which is something that's very easy to Google.
Precision Formatting
I used the positioning and height/width co-ordinates more than I have done in previous Dashboards. These are fairly easy to use once you get used to them and give nice symmetrical finish to the Dashboard.
Unique Ranking Table Calculation
I used Unique Ranking to sort the teams into their correct positions based on points, goals difference and goals for. With Unique Ranking there is the opportunity to further sort members that have identical values. I actually avoided creating a more complex formula here by creating a little workaround (spot it if you can) but I intend to back and have a go at creating the correct formula. For the Position Change view I had to calculate along Club by Match Number.
Running Sum Table Calculation
I had to use the Running Sum Table Calculation because I had already used the Sum function on my data (that workaround I mentioned) and to aggregate data that has already been aggregated in Tableau a Table Calculation is required.
Combined Reference Lines & Band
I hadn't been particularly aware that it was possible have multiple reference lines and bands on a single mark (although the box plot view should have been a clue). This worked very well for goals for, against and difference and along with points and games played meant that there were effectively five measures on a single mark.
Multiple Members in a Tooltip
This applied to the Scatter Plot used for Goals/Assists. It was probably the most difficult piece for me. My approach was to create a calculated field that converted each unique goal/assist co-ordinate into a string field i.e. 1,0/0,1/2,0/0,2 etc. I then created another calculated field which used the Size function to to take the size of the partition at each co-ordinate. The final calculated field uses a Lookup and If statement to test for the number of members and display in the tooltip. The three calculated fields are XY Unique, Number of Marks at same XY and IDs at Point.