<< Back
Getting Started with Alteryx
Alteryx is becoming so important for data manipulation and analysis, especially in the Tableau community, as it enables complex data processes to be built quickly and easily without the need of a specialist. However we know that looking at a new piece of software can be a daunting process, finding time to do so can be difficult and so it's important that you have best possible start when you decide that now is the right time. Therefore at The Information Lab we've broken down the process for getting started with Alteryx into a series of steps to try and make it as straightforward as possible.
1. Download Alteryx Trial – it's Free (5-10 mins required)
Alteryx provide a free, fully working copy of the software. You can build and run as many processes as you like, as often as you like, viewing the results within the tool, and once you've got the data as you want it you can also export the results to any number of different formats. There's a small catch in that it is only functional for 14 days, but in reality you'll find more than enough runs are provided to build out many data processes and learn the software in that time.
You can find a download here, the installation process is very straightforward and does not require administration rights, all you'll need is to register via your email address and you'll be up and running in about 5 minutes.
2. Start with the Video (10 – 15 mins required) or Tutorials (30 mins needed)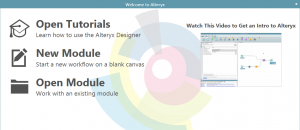 Alteryx comes with a set of tutorials to help get you started right away, handily these (and an accompanying video) can be accessed from the first screen you'll see once you register. The video will talk you through your first Alteryx module step by step, helping you find the data and tools you need to accomplish a simple data process. Alternatively the Tutorials provide a "sticker book" approach, providing annotations of what to do with a faint outline of where to drag the tools. Both methods are equally useful and which you use and whether you use one, or both, will depend on your learning style.
So within an hour of picking up the tool you'll already have built 5 or 6 data processes and you'll have an understanding of how Alteryx works. The beauty of Alteryx is that each tool is used and configured in exactly the same way, so once you are comfortable with joining two data sets then it's a extremely short learning curve to get to spatially matching two polygons.
3. Tableau users – download the Visual Analytics Toolkit and work through the samples (30 mins needed)
The Visual Analytics Toolkit from Alteryx provides a set of data and samples to give Tableau users a flavour of what is possible using Alteryx. Once installed the samples are accessed through the menu File > Open Sample > Tableau Samples and provide examples of common data manipulation tasks, as well as some advanced Analysis, with exports directly to .tde format.
Tableau users should also check out Craig Bloodworth's blog post about Tableau mapping using Alteryx and download the resources within that article.
4. Build out first data process (time will vary by complexity – 5 mins onwards)
At this point, assuming you've been thrifty with your "runs" during the Tableau samples you'll have plenty left to start building out some of your own projects, but where do you start? We'd recommend that you think back to the last data problem you had, something you thought should be easy but wasn't. Some examples of what is possible: blending two data sets together, unpivoting an Excel file, creating a set of time based aggregates and joining them onto your original dataset, reading an XML file; the list really is endless and is only limited by your imagination and your fledgling Alteryx skills.
If you can't achieve what you want at first then fear not, there are plenty of places to look for help. Firstly check out the File > Open Samples menu, these are annotated pre-built examples of every aspect of Alteryx. Secondly, there are free On-Demand Videos from Alteryx themselves to help with everything from introductions to the software through to publishing your first Alteryx "app" in the cloud. If your problem is more specific then pay a visit to the Alteryx community; with a knowledge base and forum then there's no shortage of expertise (when the CTO Ned makes himself available to answer your question then you know you've got the best advice possible).
Finally keep your eyes peeled and the date free, if you're in the UK, for some special Alteryx love on the 14th February with The Information Lab, with world leading Alteryx and Tableau users then you'll be in the right hands.
5. Don't look back (forever)
We're keen to hear what you're building with Alteryx and the kind of problems it solves for you, so use the comments below or engage with us on Twitter, G+ or Facebook, to tell us what you're doing.
We're confident Alteryx provides a solution that will enable you to push the boundaries of what is possible, even without skills in data analysis business users are regularly using the tool to mitigate the need for specialist IT resource in projects. Simply contact us when you're ready to move beyond the trial and we'll help meet your needs.