<< Back
How NOT to use Tableau
Here at The Information Lab we work with a very wide range of different customers; large and small organisations, Tableau beginners and accomplished users, and across many different industries. We have had the privilege of seeing and helping construct some really great output from using Tableau and, well, some of the not-so-great.
People often get stuck with Tableau because they're trying to do something it is just not designed to do. This might be because they are used to using other BI / MI tools and don't know any other way, or because they don't fully understand the implications of what they're asking the software to do.
Here are my top 5 popular things I see people trying to do in Tableau that you should avoid!
1. Replicate a report or chart designed in another tool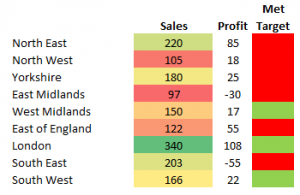 Many people start using Tableau because they want a better way to display and communicate their data than what their current solutions provide. They've made a great choice. It therefore surprises me when the first task they try and accomplish using Tableau is to try and exactly replicate something they have previously built or designed in another tool. This is usually something Excel based (but not always so), and new users run into trouble and get frustrated when something that is simple to do in the old tool is difficult
or even impossible in Tableau.
Excel has been designed differently to Tableau. It works in a different way and has different strengths and weaknesses. Instead of trying to replicate the report/chart/table, write down the purpose of it – what questions does it try to answer? Then redesign in Tableau to answer those questions whilst playing to Tableau's strengths (dashboard drilldown functionality, visual data exploration etc.) You'll probably find that you can answer a whole lot more too!
2. Try to show tons of data on one screen with a dozen (or more) quick filters
So you need to perform some analysis and create a Tableau dashboard tool that many people across your organisation can use. Some users will be managers or execs who want a high level summary view and others will be sales people who want to see the detail for their particular area.
Some people try to tackle this problem by trying to design a "one size fits all" solution where all the data is presented in a huge table complete with multiple levels of subtotals for the different aggregations, or a combination of tables and charts where a user then filters down to the slice they want to see. This is a bad idea for two main reasons.
a) loading and rendering the initial table is likely to take a long time
b) seeing one slice at a time does not really give you the big picture
Many traditional BI tools do this and you end up with a "one size fits no-one" solution. Instead, aim to build interactive views which take a user from high level aggregations down to the detail in chunks – allow them to visually explore the aggregations and allow them to select areas of interest through dashboard actions, perhaps even splitting your report over multiple dashboards. This leads to a much more holistic understanding AND solves any issues surrounding displaying too much info on one screen.
3. Try to connect every table in your database using the multiple tables option
So you have a database and all the relationships between the tables have been set up correctly by your DBA… now it's time to bring the data to life in Tableau! You know that your dashboards will require data from all the tables so the best thing to do is to create a connection using the Multiple Tables option and connect up every single table, right? [BZZTT!] Wrong!
Unless your database is a simple, single-fact star schema then connecting every table up is a sure-fire way to get into a huge mess. Creating a query involving multiple fact tables will likely end up with lots of duplicate records (sometimes called a "Chasm trap") which will result in weird results or slow performance or both.
Two bits of advice here. First, start slowly. Connect to one table, look at the set of results, verify they're what you expect and then go back to the connection window and bring in some more dimension tables. If your number of records suddenly goes up ten-fold, don't add that table in the same query. "But I need that table in my analysis" I hear you say… onto piece of advice number two; create a separate connection using your other tables and combine them together in Tableau using blending.
4. Spend way too much time on formatting
Tableau is the number one tool for quick fire analysis, building interactive visualisations, and decision support through data discovery. You really can get to the data you need to answer your business questions in breakneck speeds! Much of the time though you'll also be creating reports for others to consume through Tableau Server and you may have to conform to some corporate design recommendations – e.g. using a custom font and a certain combination of colours etc.
This is fine and Tableau understands and supports this through a variety of dashboard objects, controls and formatting options. But please don't get too hung up on the exact layout of your report – Tableau is not for "pixel-perfect" reporting – e.g. I wouldn't use Tableau for printing tax forms and I wouldn't use Tableau to make sure the corporate logo is always 38px from the far right of the dashboard header.
5. Connecting to already summarised data
One of this things I teach in training sessions is how to connect to your data, and what your data should ideally look like so that Tableau can make the most of it. Tableau have a great article on their site explaining that Tableau wants to connect to a RAW data format, rather than data that has been pivoted or entered into a summary table with subtotals and line breaks etc. Although this is a natural way for a human to read data, it is not natural for a machine and you'll want to pay special attention to this when first bringing data into Tableau.
One client asked how he should structure his various Excel tabs so that they could be analysed together. When I looked at the data, there was one tab showing aggregated sales per region, one showing sales per year, one per employee etc etc. When I showed him that connecting Tableau to the raw, un-summarised, data table was a much simpler way to slice and dice all the different dimensions he saw the light – feed Tableau raw data!
That's it, my top 5 common things I try and steer people away from and the vast majority of the time its simply because they just haven't thought about doing it differently!
If you have any questions about these points or want to talk about Tableau in general, please get in touch at info@theinformationlab.co.uk or why not subscribe to our newsletter? The link is on our home page!