<< Back
Day 2 of TCCEU13: What's the future for Tableau?
As we're coming to the close of day 2 of the Tableau Customer European Conference (see the twtter hashtag #tcceu13) we wanted to upate you guys on what we can expect from Tableau in the near future.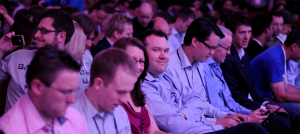 Photo by Matt Morgenroth
As always the keynote the room was buzzing with anticipation with The Information Lab front and center ready to snap and tweet the action.
Tableau 2013 and beyond will focus on 5 visions to drive development, which in terms of investment will be just as much in the next few quarters as they've spent during their entire lifespan. There's currently 205 developers dedicated to creating versions 8.1 and 9.0 and that group just keeps growing.
Analytics Anywhere – Tableau are continuing to invest in mobile, the cloud and within a year will release a native mac version of Tableau Desktop.
Visual Analytics and Statistics for Everyone – This means we're going to be able to create some some new charts to visualise time series and networks as well as building on the current statistics capabilities, adding functionality while keeping them understandable by everyone.
Total Access to Data – Companies keep wanting to connect to new and innovative data sources and just as quickly Tableau are adding in native connectors at no extra charge. They'll also be looking at the connection process bringing in reshape and transform functionality making connecting to data even more painless.
Data Storytelling – We're very excited about this one as we think it could be the next game changing development by Tableau, after all what's the point of a dashboard if it's not engaging and people don't use it? We expect that Tableau will turn so many more people on to creating New York Times esq. visualisations that tell a compelling story and have a persuasive narrative, all through data.
Software That Just Works – So we all know that for 99% of what we want to do in Tableau it just works, from rapidly exploring data visually to the one publish paradigm that enables your dashboards to automatically enhanced for the mobile touch interaction. When you move into the more advanced sides of Tableau it can become a little more complicated, and as with every release we expect even more of the complex to be made simple.
We're very excited about what we're hearing and it's only just wet our appetites for more great news to come out of TCC13 in Washington DC Sept' 2013.
The Information Lab Team June 2013