<< Back
The Great Tableau Dashboard Speed Test
One of the greatest things about working with Tableau is being able to explore your data at the speed of thought.  Here at The Information Lab we decided to take that idea and run with it.
What did we come up with?  The Great Tableau Dashboard Speed Test.
What is it?
It's a simple challenge – how fast can you recreate this dashboard?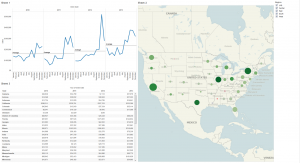 When is it happening?
The competition will be held from 10-12 June during the European Tableau Customer Conference. If you haven't registered for the conference yet, do it now.
Where?
You'll find The Information Lab HQ at our sponsor stand in the Expo Hall. Visit us and give it a shot. And even if you don't fancy yourself as a Tableau speed demon, make sure you come by and support the challengers as they race for glory.
Winners
The overall winner will be showered with:
aforementioned glory
the coveted title Lord or Lady of the 'Board
the legend that precedes you as you walk, a warrior amongst your Tableau kin
a Sonos PLAY:3 wireless hi-fi system.
There will also be spot prizes up for grabs.
Rules
You may have the data already connected before the timer starts.
Your completed dashboard must contain ALL the features of the example we provide.
The contestant with the fastest time wins.
Unfortunately Tableau Software partners and staff are not eligible to win, but may still take part.
The Information Lab staff will be the final judges.
So, what are you waiting for?
Remember, you've got to be in to win!
The Information Lab is a Gold Partner of Tableau Software.  We resell Tableau Software products and provide consulting and training services to help our clients get value from their investments. If you'd like to be kept up to date with everything at The Information Lab please sign up to our newsletter.  Alternately if you'd like to talk to us directly email us.